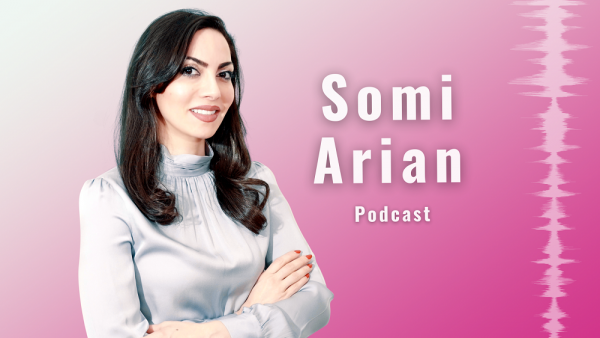 The lack of female perspective in the top-tier of business and technology is no surprise to people across the world. The situation is the same in the West and East alike, where a handful of giant tech corporations founded and run by men will shape the future of humanity. But this lack of female presence has its consequences. And to cast a light on this topic, tech-philosopher and entrepreneur, Somi Arian has started the "Somi Arian Podcast", where she invites various guests from across the globe to share their views on this subject.
Launched on January 11, 2021, "Somi Arian Podcast" has a total of four episodes to date. The first episode featured Dr. Sophie Bartsich, who is a Board Certified Plastic Surgeon and the founder of a Biotech company that's in search of a potential vaccine for breast cancer. In this episode, Somi and Sophie discuss what it is like to succeed as a female surgeon and the challenges and opportunities that come along the way of succeeding. The first episode was very enlightening that left the listeners of the "Somi Arian Podcast" wanting for more.
In the second episode, Somi invited Joshua Meredith, the Director of Career Advising and Technology at Yeshiva University. He teaches Ethics at Yeshiva, Georgetown University, and Muhlenberg College, and is the Chair of Hoya Hacks, the Georgetown University Hackathon. Joshua shared his views on the ethical aspects of the lack of female presence and perspective in the top tier business and discussed ways to overcome it.
Each episode of the podcast is insightful and provides the listeners with useful information. Somi is a great host who leaves no stone unturned in keeping the podcast as lively and interesting as possible. She makes the guests feel comfortable, which results in episodes that are light-heartened and fun to tune in to.
The latest episode of the "Somi Arian Podcast" went live on January 18, 2021. This episode features the CEO of Cartel Strategies, Laura Burkemper. Laura is also an Adjunct Professor at Saint Louise University. In the latest episode, Somi and Laura discuss the power of financial literacy, and how men and women differ in the business world. They also talk about the factors affecting women's climb to the top-tier of business and other such insightful topics.
For any woman who is tired of seeing the marginal presence of women in leadership roles in the top-tier of business and technology, the "Somi Arian Podcast" is a must-listen for them!
Listen to the "Somi Arian Podcast" now on major streaming platforms through this link.
Media Contact
Company Name: FemPeak
Contact Person: Somi Arian
Email: Send Email
Country: United Kingdom
Website: somiarian.com