Corefactors introduced 6 major feature changes in Teleduce. All of these 6 features aim to bring ease of access, security, and enhanced customer service. Let's have a quick look at these features and how they affect customers.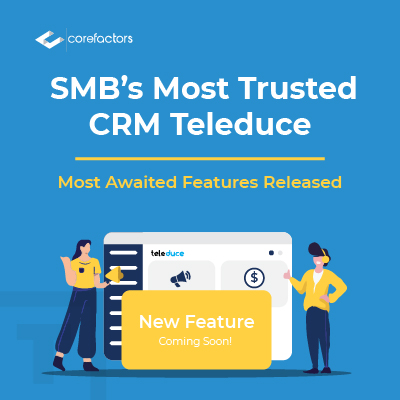 1. Upon demand from customers, Corefactors incorporated a filtering option in leads.
Benefits:
● Very handy for field sales agents and Reporting Managers.
● Filter leads based on one or multiple conditions. E.g. Agents, Stages, Sources, etc.
2. For BOs that understand the value of data security and authorization; Multi-Factor Authentication (MFA) is enabled for mobile.
They have come up with a unique authentication principle, which is –
● OTP is sent through SMS/Email after successful login.
● OTP is valid for only 5 minutes.
● If there are 5 wrong attempts continuously. Then the account is locked for 1 hour and a warning email is sent to the authorized user and BO.
This authentication process helps to safeguard the account from an extra layer of security.
3. Teleduce is now Integrated with Success Box. This means tickets can be created for a customer directly from the Teleduce Success Box
Benefits:
● A CSM agent can directly raise a ticket in the success box and assign it to the relevant team.
● Better coordination between the Account executive team and support team.
4. Corefactors has introduced the "Due on" feature to fasten customer support.
Benefits:
● Knowing when a ticket is due will help the support team to expedite the resolution process.
● Font and Color change if the ticket is past due time.
5. Addition of filter option in Journey.
Before:
Earlier customers had to go through the complete list to find out any specific journey.
Now:
Now he/she can search the journey based on certain criteria like Active, Inactive, Draft, etc.
6. Call Credit availability notification sent through Email.
All the users with the role "Business Owner" will get a notification with current credit details, when call credits become zero or below zero after the last incoming call.
About Corefactors:
Corefactors product Teleduce is an Integrated CRM through which the Market team can position on the right channels, the Sales team can simplify the sales process with quick communication and conversation, and the Support team can leverage Teleduce to delight the customers every time by providing timely service. Corefactors address the major problem of using different software for marketing, sales, and support teams with an all-in-one Integrated CRM which is being used by 350+ SMB's in India.
Media Contact
Company Name: Corefactors
Contact Person: Paranthaman M
Email: Send Email
Phone: 080-67335577
City: Bangalore
Country: India
Website: https://www.corefactors.in/