Statistics show that less than 25% of New Yorkers own a car, making traditional self-storage an inconvenience. If you're one of the 75% of New Yorkers who don't own a car, you have to rent a van, pack it up and sit in traffic until you get to a storage facility God knows where. Finally, when you do get there, it still isn't over: you have to unpack the truck and sit in traffic all the way back. By the time you've returned the rental and arrive home, a whole day has been wasted. Let Simplify Storage save you the trouble.
Valet storage is the latest innovation in self-storage, and Simplify is leading the movement. Their aim is simple: to give New Yorkers back their time and space, so they can use it to do more of the things they love.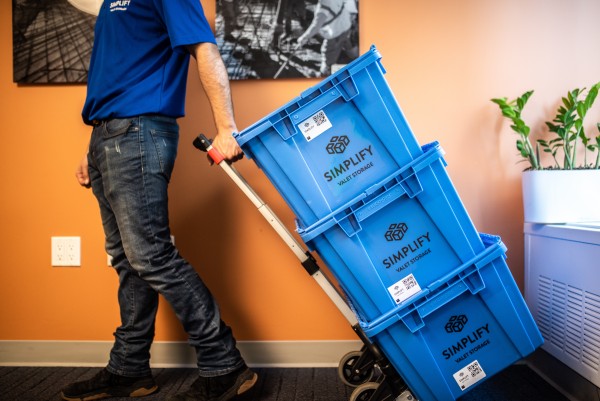 How it works
Simplify does the driving for you. They drop off bins for your treasures and wait until they're packed and drive them to their storage facility. The only thing you have to do is pack the bins, and if you don't feel like doing it just then, Simplify will come back another time to collect them. You can track your bins and request any or all of them back through their website. Then Simplify will deliver them right back to you. In a nutshell:
• They bring you our bins so you don't have to buy cardboard boxes
• You pack the bins and upload pictures to their website so you never forget what you have in storage
• They store your bins in their climate-controlled facility
• They return your bins whenever you want within a three hour turnaround

About the company
Simplify was created by Donal O'Sullivan to answer the ever increasing demand for storage as apartments and offices continue to get smaller and smaller. Donal's background is in construction and he helped to build the 6 story storage facility in Long Island City that Simplify uses today. Everyone at Simplify has experienced the struggle to find space in the city, which inspires them to make it easier for their fellow New Yorkers.
The team at Simplify wants to put you first, unlike traditional self-storage. Their mission is to make your life easier by bringing storage to you. Valet storage is a simple, innovative method that will save you ever having to schlepp your way to a traditional self-storage facility again.
Simplify Valet Storage is made up a close-knit team always developing new ideas to make storage easier for their fellow New Yorkers. They currently service all five boroughs of New York City and hope to expand in the near future.
The thing – lol I would say: "Then the hours spent filling up your van and sitting in NYC traffic can be stressful. Lastly, upon arriving to the storage facility, you're still not done. By the time you unload, return your rented van and arrive home, the day has gone by. Let us save you the trouble."
Updated this to include more detail like you have. I've left out the "can be stressful" bit because it's not strong enough. I think "Forget about it" sounds very New York, and has personality/humour; but it mightn't be professional enough.
How does this sound: 'So they can get back to living their life, and loving their space.'
Could also sound too cheesy, just a suggestion!
Media Contact
Company Name: Simplify Valet Storage
Contact Person: Media Relations
Email: Send Email
Phone: +1(888) 522-2330
Address:633 3rd Ave 17th floor
City: New York
State: NY 10017
Country: United States
Website: https://simplifystorage.com/