Delaware – March 12, 2020 – Shifttocloud, Today announced the release of their new centralized web-based Office 365 email signature management service Sigsync.com. Sigsync Email Signature service is for managing Exchange Server and Office 365 email signatures automatically. Sigsync provides the perfect solution for your entire company and business with centrally managed web-based Office 365 email signature service. Every single email will have a full, dynamic and professional email signature that you have sent from your computer and mobile devices (Windows, Mac, Linux, iPhone, Android etc.,)
This email signature service will help companies centrally configure and manage professionally designed email signatures for their Office 365 and Exchange server users. Email signatures can include logos, images, color schemes, and formatting, as well as merge the fields that are replaced with the user's personal information taken from Office 365, Exchange server Active Directory.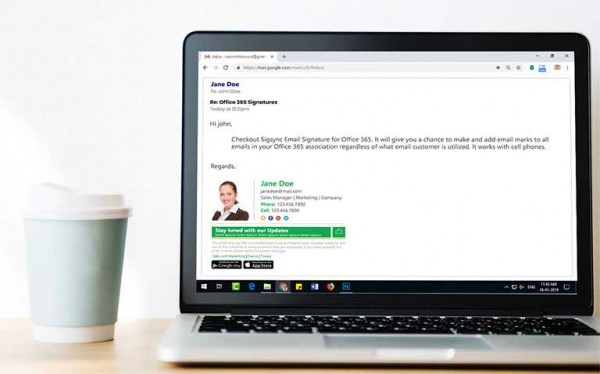 Sigsync comes with easy-to-use Signature Generator and Email signature Templates Gallery, makes it easy for the companies to create professional email signature without requiring HTML, Design knowledge / expertise. You can simply select one of the pre-designed templates and apply their logo, font, and color scheme. You can create separate signatures for different departments, office locations, or even different signatures for each member of your team to better interact with your audience and engage your users.
Sigsync Outlook plugin will help, Microsoft Outlook users receive appropriate email signatures from according to the rules set. You can also enable signature for Sent Items.
Configure the signatures at one place and Sigsync will ensure its portability on all other devices without any limitation. Email signatures are automatically added if you send from the mobile device or from desktop Outlook, OWA, iPad and iPhone.
Sigsync provides the most complete suite of email policy enforcement tools as a result of a long-term focus on solving critical business problems and anticipating evolving industry compliance and security issues.
Sigsync Email signature will help
1. Start driving traffic to your business
2. Increase client's engagement more than 30%
3. Most Popular Signature Templates will save your time and effort
4. A perfect and user-friendly Email Signature Generator to create signature within a minute
Sigsync Email signature Features:
1. Email signature added on the server side on fly
2. Email signature content and flow control based on signature rules
3. Photos, Profile details automatically added from Active Directory
4. All Signatures and disclaimers are visible in Sent Items folders
5. Supported across the platform including mobile devices.
6. Support for encrypted and digitally signed messages
7. Supports Active Directory fields in email signatures
8. Supports QR codes in email signatures
9. Add custom file types to filters
10. Forward internal and external mail based on rules
How it works? Video –

Video Link: https://www.youtube.com/watch?v=94uTNr0-4M8
About US:
About Shifttocloud is an established firm and has been providing data recovery, migration, and email signature services for more than 150 countries. Shifttocloud stands among the leading providers of data recovery, migration and email signature service.
Media Contact
Company Name: Shifttocloud, Inc.
Contact Person: M. John (Business Sales Manager)
Email: Send Email
Phone: (302) 416-3056
Address:19266 Coastal Highway, Suite-4,
City: Rehoboth Beach
State: DE 19971
Country: United States
Website: www.sigsync.com/