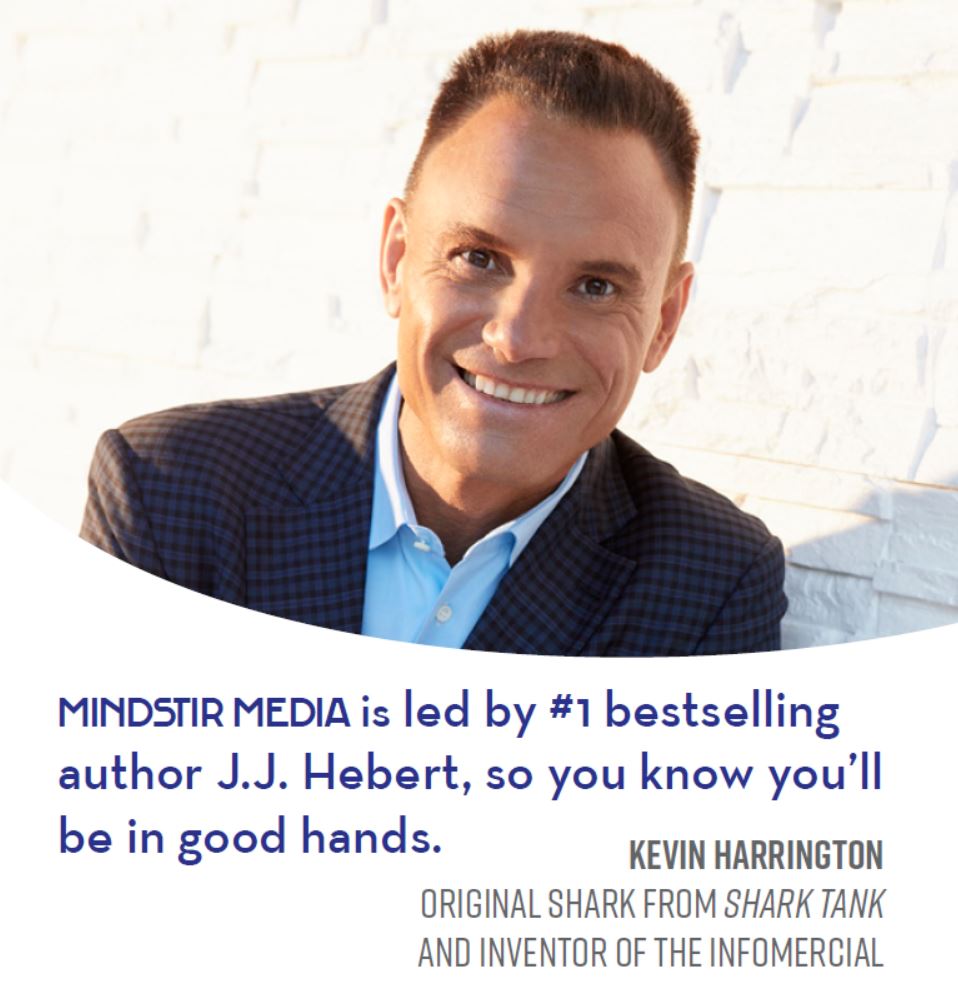 In a video created by Shark Tank investor Kevin Harrington and posted on YouTube, Harrington praised MindStir Media by stating, "With the help of MindStir Media, an award-winning self-publishing company, you too can turn your manuscript into a top-notch book product that you'll be proud to sell…"
Kevin Harrington is the inventor of the infomercial and pioneer of the As Seen on TV brand. He is also known as an original Shark on the hit TV show Shark Tank. His business ventures have produced more than $5 billion in global sales.
Harrington added, "MindStir Media is led by #1 bestselling author J.J. Hebert, so you know you'll be in good hands … Check out MindStir Media, the company you can trust to help you get to the next level with your book."
This strong endorsement by entrepreneur Kevin Harrington sets MindStir Media apart from its competitors. "To receive a glowing endorsement from the great Kevin Harrington is a game-changer for us," said J.J. Hebert, founder of MindStir Media. "MindStir has been rated #1 among the best self-publishing companies by a bunch of independent blogs and websites but that doesn't compare to receiving Kevin Harrington's seal of approval. It's an impressive signal to potential clients that they can entrust their books to us."

Video Link: https://www.youtube.com/embed/3ZJM4Sj_GVo
About Kevin Harrington:
Kevin Harrington is one of the top entrepreneurs in the United States. He's an original "Shark" from Shark Tank, the creator of the infomercial and pioneer of the As Seen On TV brand. He's helped produce over $5 billion in global sales and launched over 500 products. His official website is www.kevinharrington.tv.
About MindStir Media:
For over a decade, MindStir Media has been providing authors with its award-winning self-publishing services including book design, editorial, printing, distribution, marketing and publicity and more. MindStir is rated #1 among self-publishing websites and platforms according to Penny Matters, BestTechie and iTech Post.
Visit www.mindstirmedia.com or call 800-767-0531 to learn more about self-publishing with MindStir Media.
Media Contact
Company Name: MindStir Media LLC
Contact Person: Maggie Kelly
Email: Send Email
Phone: 800-767-0531
Address:45 Lafayette Rd Suite 181
City: North Hampton
State: NH
Country: United States
Website: http://www.mindstirmedia.com