The Satellite Internet Market Value is projected to be USD 17.1 billion by 2028, growing from USD 4.0 billion in 2023, at a Compound Annual Growth Rate (CAGR) of 33.7% during the forecast period.
The "Satellite Internet Market Size by Orbit (LEO, MEO/GEO), Connectivity (Two-Way Service, One-Way Service, Hybrid Service), Vertical (Commercial, Government and Defense), Frequency, Download Speed and Region – Global Forecast to 2028." The Satellite Internet Market Size is valued at USD 4.0 billion in 2023 and is projected to reach USD 17.1 billion by 2028, at a CAGR of 33.7% from 2023 to 2028.
The Satellite Internet Market Report includes services including Satellite, User Terminal and end-user service. The emergence of "Satellite Internet" represents a transformative integration of satellite communication and non-terrestrial networks to provide enhanced connectivity and enable a wide array of applications across various sectors. By leveraging advanced satellite systems, such as low Earth orbit (LEO), Satellite Internet aims to extend the capabilities of terrestrial 5G networks to even the most remote and challenging environments. This integration enables the provision of high-speed, low-latency connectivity to support critical communications and applications in sectors such as telecommunication and cellular backhaul, media, and entertainment, business and enterprise, retail and consumers, aviation, marine vessels, transportation and logistics, as well as scientific research and development.
• Informational PDF Brochure :- https://www.marketsandmarkets.com/pdfdownloadNew.asp?id=139239513
The Satellite Internet market Size is dominated by a few globally established players such as SpaceX (US) Oneweb (UK), Viasat (US), EchoStar (US), SES S.A. (Luxembourg), and Iridium (US) among others.
Browse 259 market data Tables and 51 Figures spread through 259 Pages and in-depth TOC on "Satellite Internet Market Size by Orbit (LEO, MEO/GEO), Connectivity (Two-Way Service, One-Way Service, Hybrid Service), Vertical (Commercial, Government and Defense), Frequency, Download Speed and Region – Global Forecast to 2028"
View detailed Table of Content here – https://www.marketsandmarkets.com/Market-Reports/satellite-internet-market-139239513.html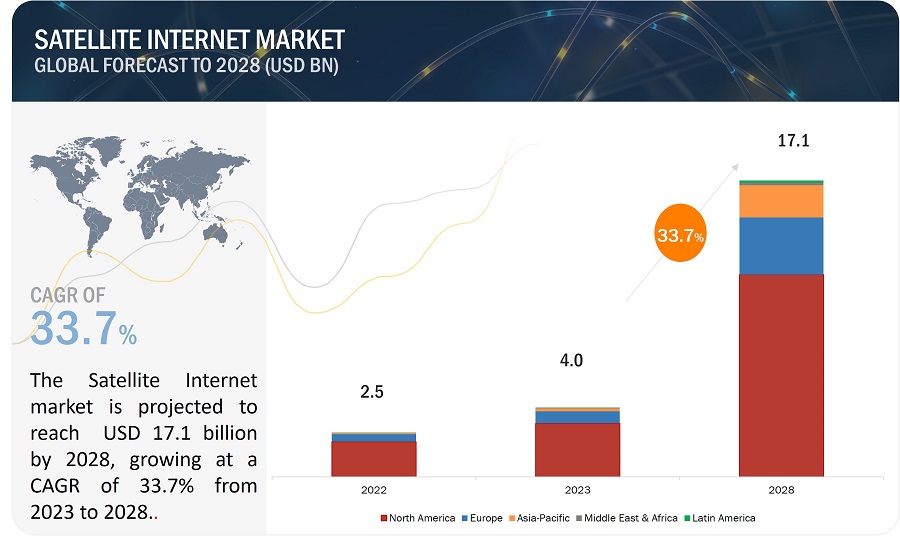 Satellite Internet Market Dynamics
Driver: Increasing usage of Global Connectivity
Global connectivity is increasing demand for seamless and reliable internet connectivity across the globe, satellite technology offers a viable solution to bridge the digital divide and connect remote and underserved regions. Satellites provide global coverage, enabling connectivity in areas where terrestrial infrastructure is limited or non-existent. This is particularly beneficial for industries such as maritime, aviation, and rural areas where traditional internet connectivity options may not be feasible. Satellite internet services also play a crucial role in disaster management and emergency response scenarios, providing immediate connectivity when terrestrial networks are disrupted. The ability to connect remote locations, facilitate real-time communication, and enable access to digital services fuels the demand for satellite internet services and drives market growth. Additionally, satellite technology advancements, such as the deployment of high-capacity satellite constellations and improved bandwidth capabilities, enhance the quality and speed of internet connections, further boosting the adoption of satellite internet services on a global scale. OneWeb and Eutelsat merger aims to create a global leader uniquely positioned to capture the fast-growing connectivity market with a complementary offering of geostationary (GEO) and low Earth orbit (LEO) satellites.
SpaceX
SpaceX, founded by Elon Musk in 2002, is an American aerospace manufacturer, space transport services provider, and satellite manufacturer. Notable achievements include being the first private company to successfully launch and return a spacecraft from Earth orbit in 2010, sending a spacecraft to the International Space Station (ISS) in 2012, and launching astronauts to the ISS in 2020. SpaceX has developed the Falcon 9 and Falcon Heavy rockets, the Dragon spacecraft for ISS docking, and the Starlink satellite network for global internet coverage. The company's ambitious goal is Mars colonization, facilitated by the Starship rocket and Interplanetary Transport System (ITS). SpaceX's business spans launch services, spacecraft, rocket engines, and satellite manufacturing, funded through government contracts, private investment, and launch revenue.
Viasat Inc.
Viasat Inc. is a prominent American communications company specializing in broadband internet services, secure networking systems, and satellite-based aviation solutions. Its operations encompass two main segments: Satellite Services, which offers broadband internet, VoIP services, and in-flight entertainment, and Commercial Networks, providing diverse satellite communication systems to businesses and industries. Viasat serves a wide range of customers, including rural consumers, businesses, governments, airlines, and more, catering to applications such as internet access, voice and video communication, and disaster recovery. With a global presence, over 9,000 employees, and a listing on the Nasdaq stock exchange, Viasat continues to invest in cutting-edge technologies like satellite broadband while navigating competition and regulatory challenges.
The North American market is projected to contribute the largest share from 2023 to 2028 in the Satellite Internet Market.
Based on region, North America is expected to lead the Satellite Internet Market Size from 2023 to 2028. North America segment is the region's advanced technological landscape.
The satellite internet market size in North America is being propelled by a series of compelling factors. The escalating demand for high-speed internet in rural and remote regions, where terrestrial infrastructure deployment is challenging, underscores the need for cost-effective solutions like satellite internet. The surge in streaming services amplifies the call for rapid connectivity, and satellite internet emerges as a viable option for video content delivery to underserved areas. Similarly, the rise in online gaming and the expanding realm of the Internet of Things (IoT) fuel the need for swift, reliable connections, particularly in remote locales. Satellite internet answers the demand for cost-effective mobile backhaul for extending mobile networks in such regions. Factors such as the emergence of high-throughput satellites, advancements like 5G integration, and increasing affordability further accentuate the growth potential of the satellite internet market in North America.
Media Contact
Company Name: MarketsandMarkets™ Research Private Ltd.
Contact Person: Mr. Aashish Mehra
Email: Send Email
Phone: 18886006441
Address:630 Dundee Road Suite 430
City: Northbrook
State: IL 60062
Country: United States
Website: https://www.marketsandmarkets.com/Market-Reports/satellite-internet-market-139239513.html