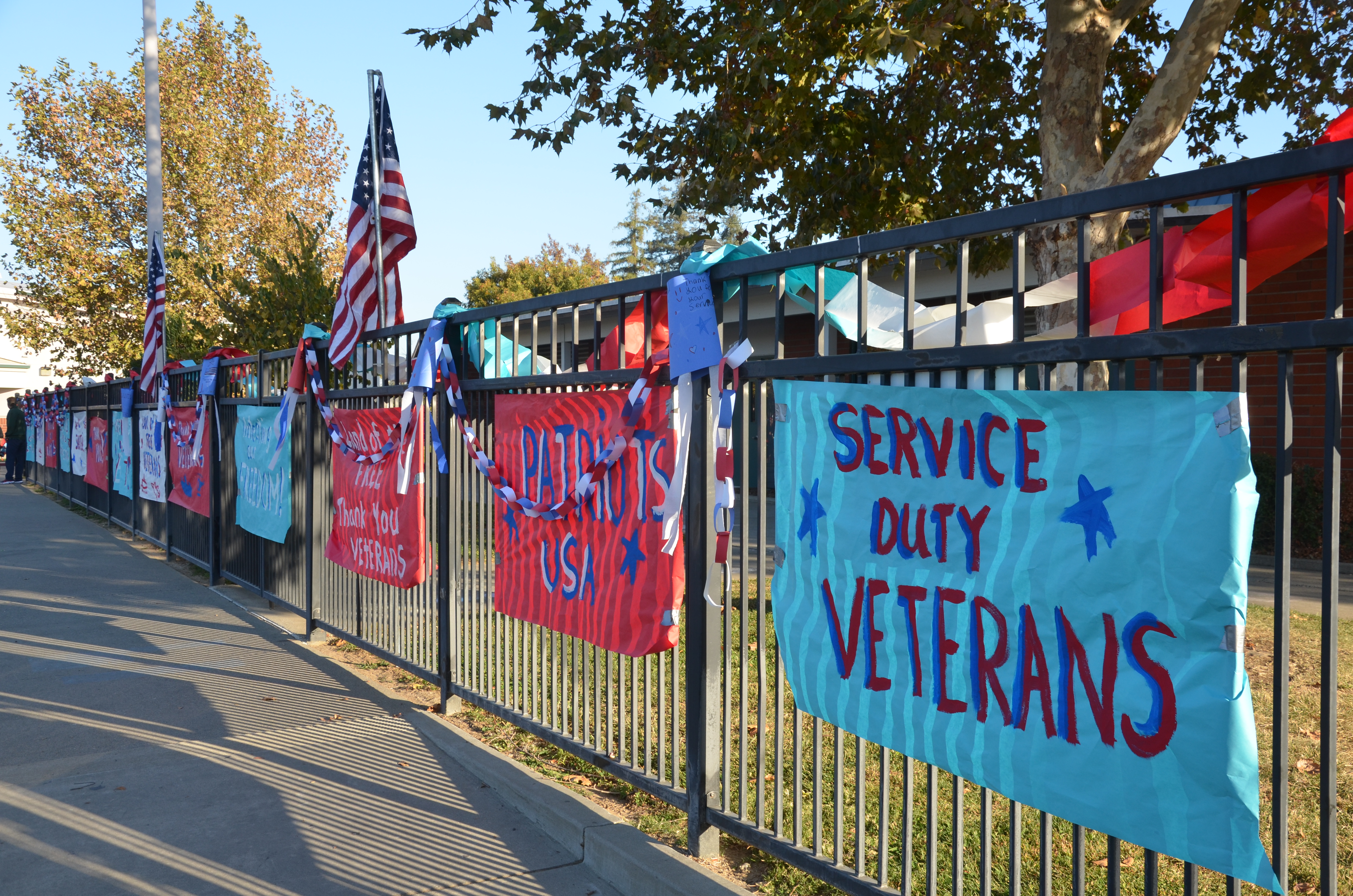 Samuel Kennedy Elementary School supports local service members on veterans day 2019 with patriotic school banners.
Students celebrate local service members with a special event at Samuel Kennedy Elementary
Samuel Kennedy Elementary School invited military veterans and the communities that support all branches of the U.S. Military, to attend a Veterans Day celebration on Friday, November 8, 2019. The event honored local military veterans with a student-led celebration where Samuel Kennedy Elementary fourth, fifth and sixth graders sang "God Bless the USA," "Heroes Song" and "Thank You, Soldiers".
The Veterans Day celebration at Samuel Kennedy Elementary aimed to instill how important veterans are to the local community. Their past military service and current civil contributions continue to protect and support the progress of the foundational freedoms of the United States of America.
Many Samuel Kennedy Elementary faculty and student body members have a connection to the military and it is important to honor these ties to the local community. Samuel Kennedy Elementary, located within Elk Grove Unified School District, provided a unique and wonderful educational experience for members of the community by teaching about American history and supporting local military veterans.
Honoring our country's military veterans teaches children about important values and offers a hands-on history lesson for student attendees and participants. All Samuel Kennedy Elementary School students and staff were invited to participate in the school's Veterans Day celebration. The pride in being a "Kennedy Cougar" was exhibited by the students as they continue to grow and learn.
About the Elk Grove Unified School District:
The Elk Grove Unified School District (EGUSD) is the fifth-largest school district in California located in southern Sacramento County. EGUSD covers 320 square miles and includes 67 schools: 42 elementary schools, nine middle schools, nine high schools, five alternative education schools, an adult school, one charter school and a virtual academy. Offering a multitude of educational programs, including over 70 career-themed academies and pathways within 15 industry sectors, we prepare our students for college and career by supporting them with the means to be creative problem solvers; self-aware, self-reliant and self-disciplined; technically literate; effective communicators and collaborators; and engaged in the community as individuals with integrity. We integrate rigorous academics with career-based learning and real world workplace experiences and ensure that Every Student is Learning, in Every Classroom, in Every Subject, Every Day to Prepare College, Career and Life Ready Graduates.
For more information about the Elk Grove Unified School District, please visit www.egusd.net and follow us @ElkGroveUnified on Facebook, Twitter, Instagram and YouTube.
Media Contact
Company Name: Elk Grove Unified School District
Contact Person: Xanthi Pinkerton
Email: Send Email
Phone: Mobile: +1 (916) 261-6219 | Office: (916) 686-7732 | Fax: (916) 686-7787
Address:9510 Elk Grove-Florin Road
City: Elk Grove
State: CA 95624
Country: United States
Website: www.egusd.net