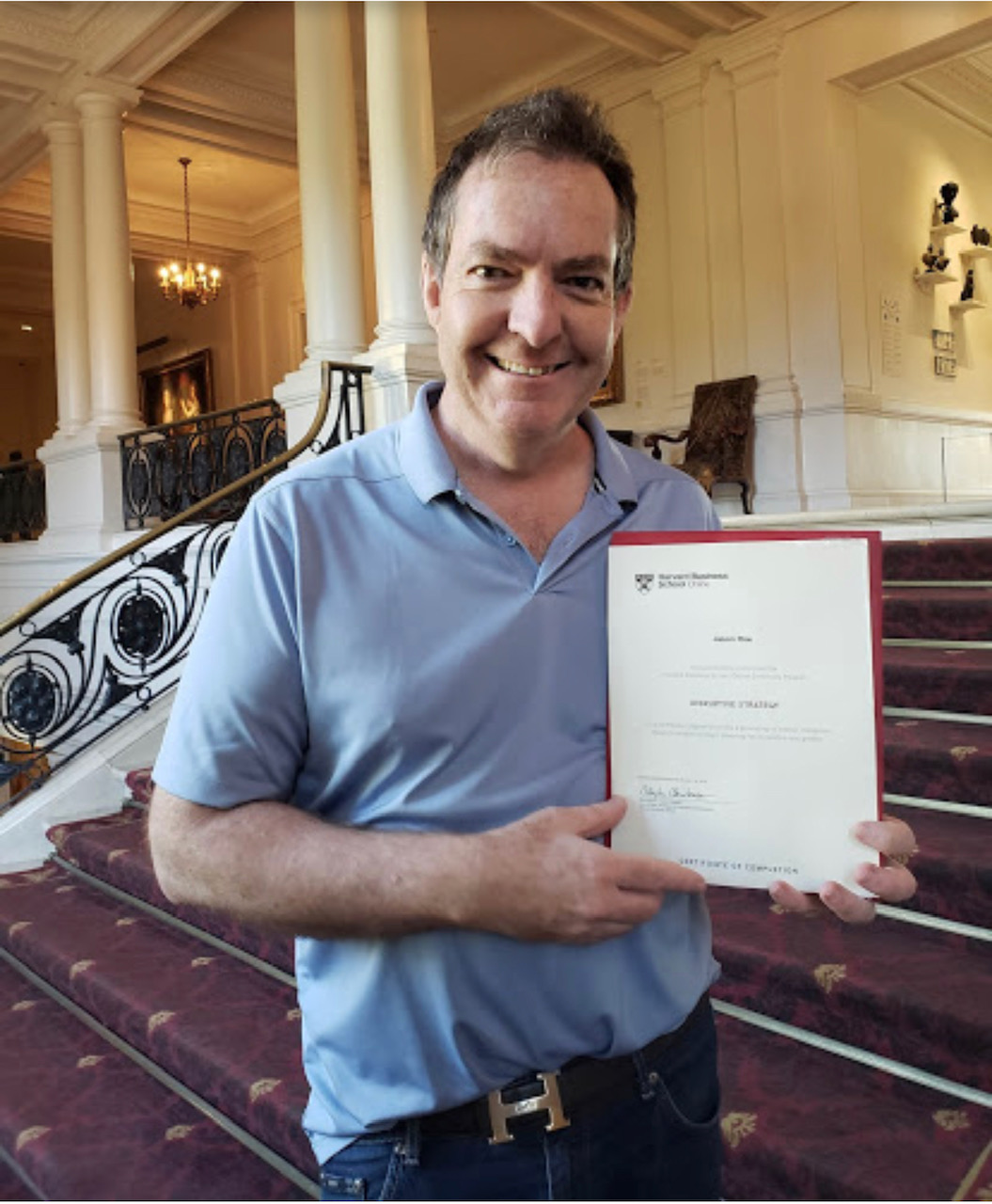 Roe showing his Harvard Disrutive Study Certification. "The key thing around disruption is making people think. Disruption is going to be more prevalent in the next 10 years, than it has been in past 10 years," says Roe.
It takes a brave person to challenge Albert Einstein's theories. Non Fiction Author, and company CEO Jason Roe found success by looking at long-established concepts through a different lens. He questioned Einstein's theory in his 2016 book. Now ground breaking 2019 science experiments at Cern, home of the Large Hedron particle collider, seem to debunk Einsteins theories. Validating Roe's claim, the role consciousness plays. Roe claimed conscious belief in Einstein only made it true.
"Make people think" is a mantra that Roe follows in his successful trend-setting career pursuing unique disruptive ideas that shake up the marketplace and create novel, sustainable and profitable new ways of doing business, rather than relying on old, unchallenged ideas.
Best Roast Coffee (BRC), launched as part of a mentoring project Roe led for University College of London, one of the top five universities in the world. The specialty coffee company stormed the tired conventional coffee market by offering unique a one-of-a-kind process magnetized water. The disruptive quantum technology brings the water and coffee to a new level, the added perk of health benefits associated with the technology, are a massive draw for the coveted millennial beverage crowd — and coffee is just the beginning.
Roe knew his technology had the power to blow up the coffee sector, and he says his energetic, ambitious ideas have the potential for major gains in any industry, from food and baking through to cosmetics. "We need to change the way we think about doing business as usual," he says. "Forget business as usual. I think of business as unusual, that thought captures the essence of what you need to do to secure a market." Grocery chains can now use BRC innovations to extend their shelf life of their fresh produce, and Deli. Government site Pub med in August 2019, published scientific medical articles, that now prove increase of foliage in dead produce when magnetized water is applied."BRC was educating grocery chains of this back in 2016, now it is now backed by published science too. Our innovation can save the larger big box retailers hundreds of millions in shrink loss by use of Magnetized Water in mist sprays" said Roe.
Guiding Roe's vision is thinking about how scholars like Nikola Tesla in the past disrupted traditional thinking, and he says those lessons learned can be used by leaders of industry looking for the next big technology. "The era of apps arrived over a decade ago now, looking for the breakthrough app and technology is looking back, the era of apps and tech, as we know it, has come and gone. The forward future is organic live technology, and that is driven by consciousness," he says, advocating for a focus on quantum physics and neuroscience to drive future business innovation. It's an idea at the center of his worldwide non-fiction book "The Force Is In You" under science forum name name Ethan Carter that touts the Magnetic Field of the planet and peoples connection to force of it, a one consciousness-driven approach for personal and business success.
Driving Roe's work is different belief, what we had been taught at university was what we only thought of as true in that time period. Roe says "There is a need to re-think and even scrap long-held ideas". Roe's book controversially did that when he introduced "intention water", and in the books last chapter, Roe scientificly argued Einstein's theory of E=MC2 was wrong. Years later, at CERN — home to the largest hadron particle collider in the world — physicists are now discovering the evidence and scientific validation of Roe's claim. "The key to looking forward is discovering things as CERN has done, and now, only because their experiments see it, they can undo their hypnotic consciousness trance and belief of it that Einstein created with the equation and open their mind to greater possibilities, and potential beyond what false assumptions such as E=MC2 will have them believe". In 2017 open letters, based on proven science, and math, experts are now doing the same, challenging E=MC2 not true. Roe was ahead of his time, and able to percieve it well before Cern discovered it.
Roe's coffee company BRC takes this idea of the consciousness and new ways of thinking, becoming a market leader by disrupting the business as usual way of selling coffee. BRC uses the causality business model; it does not sell packets of its coffee beans so people have to visit the company's outposts to get the drink made to order. He thought of this when he saw the emerging Amazon market in 2015 and developed a coffee business model that uses a unique formula blend of beans from various regions, and innovative air roasting, to produce an amazing taste, BRC ensures consumers can't buy their beans in stores or online. "Grocery chains can entice customers inside for conscious experience of a smooth coffee they can't get on line, it's a huge boost for the retailers that house BRC's coffee bars because they get the increased flow of the customers that are coming for the organic coffee — but once they have their beverage they're likely to explore the store and buy additional items it increase the box spend too".
It's a "disruptive" market theory Roe learned while studying at Harvard. "The key thing around disruption is making people think. Disruption is going to be more prevalent in the next 10 years, than it has been in past 10 years. The most disruptive ideas are those that don't come from what most people are looking at every day," he says. Major coffee chains don't innovate and rely on the decades-old technology for roasting coffee and making beverages. Roe invested time and money in developing game-changing technology, that gives BRC and associated retailers a unique product to sell."
Now he's eager to advance those eye-catching, forward-thinking ideas in other industries, and says the lessons learned from the coffee sector can apply anywhere. Roe is so confident in his approach to business that he's even willing to stake his reputation on controversial ideas like his challenge to Einstein's theory of relativity. There's historical precedent on his side; Roe notes that inventor Nikola Tesla — who frequently pushed back on Einstein's theories — is credited as the inventor of Wi-Fi, and alternating current that powers most everything in the modern world, Einstein's name, while known globally, isn't attached to any specific innovative product.
Another historical figure that Roe credits is the scientist Paul Dirac, who was at Cambridge University in England in the 1920s. Dirac's critical way of thinking tried to find flaws in his colleague's well-accepted theories, not because he was against innovation but because he thought there might be even more-creative ways of approaching concepts. Dirac worked slowly and was often derided by his peers, with his unique ideas often criticized as nonsense and fantasy. Roe notes that while Dirac was maligned at the time he lived, he discovered anti matter, and that discovery alone disrupted science and doubled the known particle world. "Dirac was not so crazy after all," says Roe, "So I believe a person should not ever be afraid to say crazy things like Einstein is wrong as Tesla did, and so did Roe in 2016, you have to go with what you truly believe inside, and be true to yourself enough to say it."
Roe says that his disruptive approach to business takes the lessons of Tesla and Dirac and applies them to the 21st century, finding a powerful selling point whatever the product. Roe says, "If innovation is the driver it has to be out-of-the-box and unconventional, it will be energy driven magnetic field and consciousness play a key role in that." Roe invites company leaders and others to contact him to talk about his innovative work, encouraging people to join him on his market-disrupting journey.
Media Contact
Company Name: Millennial News Feed
Contact Person: Korey Andersen
Email: Send Email
Country: United States
Website: https://twitter.com/MillennialNews3