New job-seeking platform that connects job seekers directly to HR Managers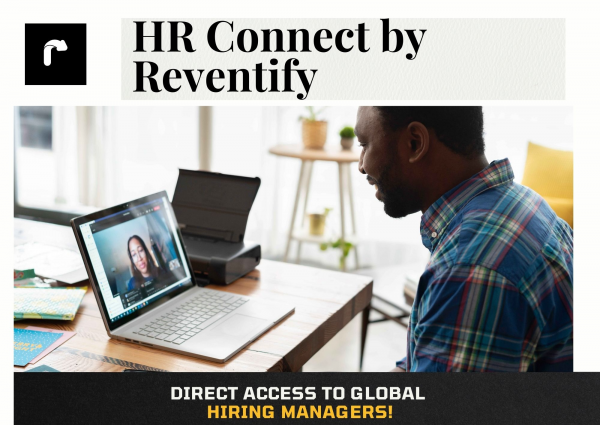 Leading resume building platform, Reventify has recently announced the launch of new job seeking platform, HR Connect. The platform which will be launched in October allows job seekers to connect with HR Managers of large corporations or Start-ups directly.
Earlier in the year, Reventify launched a Smart Resume builder to help job seekers create perfect resumes for each job within 10 minutes. With pre-written sentences for work experience and career summary sections, the resume creation process is fast and seamless. The smart resume builder provides access to the tools and network required by young professionals to land a job within 90 days or less.
The Reventify resume templates were created by several HR Managers across different industries based on specific hiring criteria. Users also have access to "expert insights", a feature that provides a guide on how to better structure their content with ease, and what to include on their resume. Their spelling and grammar checker ensures that the resume is grammatically correct and error free. With a monthly charge of $9, users can create an unlimited number of resumes.
Reventify is making it easy for young professional to build their network without a lengthy and painful process. HR Connect by Reventify will therefore eliminate the long period of time it takes for job seekers to get an audience with hiring managers or secure an interview. It also makes job search as easy and as seamless as possible.
With informational interviews, job seekers can get insights on career prospects in different industries. They can also build relationships with hiring managers who can refer them to job positions or give advice that can help them in the hiring process.
Again, job seekers can participate in mock interviews with a company insider to prepare for an upcoming interviews. HR Connect will connect job seekers to HR Managers who have either worked at the particular company or a similar company.
HR Connect is a career game changer because due to the access to a large number of Hiring Managers, professionals can quickly advance in their careers.
Users can have a one-on-one virtual session with hiring managers by creating a quick profile on the platform. After which users select primary reason for wanting to connect with a hiring manager, pick up to 3 dates and time options, upload a CV and make payment. Virtual sessions will then hold after a booking confirmation and an acceptance from the HR Manager.
On why the Reventify team chose to launch HR Connect, a spokesperson revealed that the team realized that having a great resume plus the right coaching and network significantly increases the odds of landing a great job by 4x and HR Managers have a network of other HR Managers and that makes them quite valuable.
For more information, visit website https://reventify.com/hr-connect-us
Media Contact
Company Name: Reventify Inc
Contact Person: Augustus Oyediran
Email: Send Email
Country: United States
Website: https://reventify.com/hr-connect-us