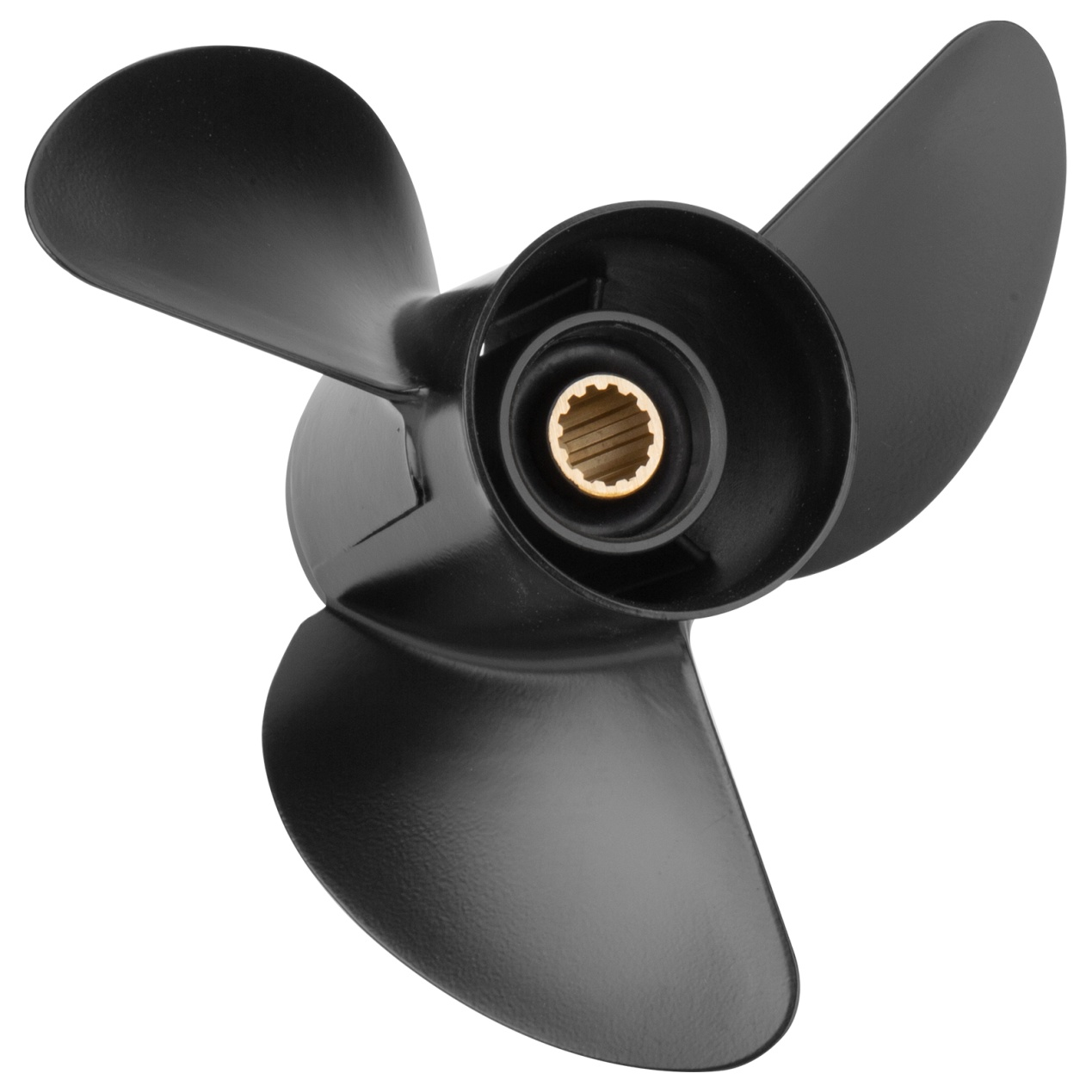 The Yamaha propeller is a type of marine Propeller developed by Yamaha Motor Company. It has been used on the stern drive of the Yamaha outboard motor products, including the 40-hp and 90-hp 4-stroke models.
Qiclear introduces Yamaha black stainless prop with strong duplex stainless steel material; an effective Yamaha black stainless prop provides thrust and propels the boat forward or backwards. It also provides a slipstream that allows efficient movement through the water. The propeller thrusts water back or forwards, and the boat moves in the opposite direction. As an object moves through the water, it creates swirls (vortices) behind it. When the boat moves forward, and the propeller is stationary, these swirls travel back towards the rear of the boat rather than forward with it. This means that they are moving against the direction of travel as far as the boat is concerned; this effect is known as slipstreaming drag and results in a loss of power and efficiency.
The new Yamaha propeller is designed to boost engine performance and make it more efficient. Having a great propeller is just as important as the engine itself. With this propeller, boat owners can expect more acceleration, top speed and torque.
For better speed and performance, here are some of the features that you can expect from the Qiclear propeller:
– Strong Material Duplex Stainless Steel
The material that makes up this propeller is made up of Duplex stainless steel. This material is stronger than others and can withstand corrosion. Boat owners no longer have to worry about their propeller getting damaged by saltwater or other harsh environments.
– Easy To Install
Another convenience that you get from this Yamaha Qiclear's propeller is its easy installation feature. No longer will you have to deal with a difficult installation process that takes forever. You no longer need to spend days looking for someone who can install your propellers for you because it comes with a quick-release system that allows for easy removal, making your boat maintenance easier than ever!
– Durable, Good Painting, And Speed The workmanship of this Propeller is incredible!
Qiclear's products include propellers made of duplex stainless steel as well as marine-grade stainless steel. Duplex stainless steel is known for being both durable and corrosion-resistant, making it ideal for use in marine environments. It's also lightweight, so it doesn't add extra weight to your boat. If you're looking for a high-quality product that will last you many years, check out Qiclear's stainless steel propellers!
About Qiclear
Qiclear is a well-known propeller brand in China. The company has made propellers for over ten years. Now the company has got a new model of ybs props. It's made of Duplex stainless steel and has a good painting. It's strong, durable and easy to install. Qiclear is a company specializing in the boat propellers industry located in Qingdao, China. Qiclear integrates scientific research, design and development, manufacturing, sales and after-sales service. In addition, Qiclear has high-quality design and development personnel and professional and skilled workers capable of producing high-quality aluminium propellers and stainless steel propellers for yacht engines.
For more information, please visit https://vifprop.com/products/oem-upgrade-10-25-x-16-g-polished-stainless-steel-outboard-propeller-for-yamaha-engines-40-60hp-parts-no-663-45978-00-98-13-tooth-rh
Media Contact
Company Name: Qingdao Qiclear Propeller Company
Contact Person: Huadong Fan
Email: Send Email
Phone: +86 15020053939
Address:809, 8 Floor,No.18 Baoding Road, Shinan District
City: Qingdao
State: Shandong
Country: China
Website: www.vifprop.com