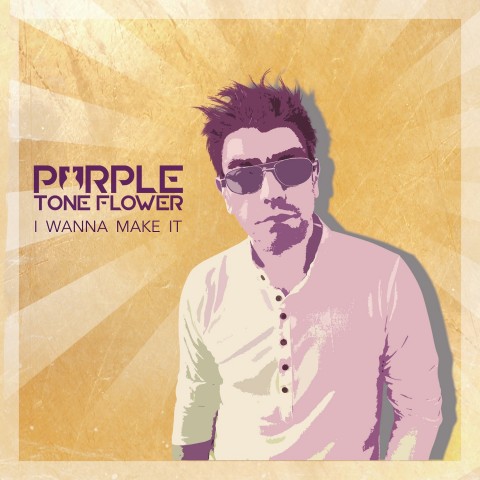 Mauricio Flores Sánchez created the solo project "Purple Tone Flower" to express his unique perspective, and multiple layers of emotions on life, following a back to basics approach. Although Mauricio picked up the guitar at the age of 15 and went on to perform in several events, clubs, and bands over the years, he has officially made a debut with his single "I wanna make it", a feel-good song with laid back grooves and soulful vocal delivery by the artist, making it perfect for the gloomy times the world's currently facing. It is the first single from his EP to be released in August this year.
Talking about his music, Mauricio states, "All of my songs invites you on a journey of inward reflection, to alter your paradigms and follow your passion and I think this is something that we are all asking ourselves today, these pandemic and quarantine times should serve to ask ourselves how we want to continue, who we want to be and how we want to be happy."
Mauricio was passionate about music from a very young age and he wanted to study music, but finally he ended up choosing Architecture. "I do not regret in absolute of having made that decision. I am very grateful for what my profession has taught me. However, I've never stopped studying music and sound production by myself", adds the artist.
Purple Tone Flower is a carefully curated project from his years of experimentation and experience with music. Mauricio calls it the "Music for the dreamers" and those who're looking for peace after a long, tiring day. Inspired by the likes of Lenny Kravitz and John Mayer, Mauricio creates a mesmerizing fusion of rock, blues, and funk paving way for an amazing listening experience.
The 40-year-old, self-taught musician is playing multiple roles in life as an architect, husband, and father. With his project "Purple Tone Flower", he is beginning a new journey into music, putting his whole vision into it. From handling the song production to songwriting and composing, to programming the drums, playing and recording guitars and voices, to mixing and mastering the first versions, Mauricio is doing everything on his own, at his home studio.
There is no doubt that Mauricio is putting his heart and soul into this project. His love for music is evident from his words, "Making music is what I enjoy the most in life, I put my soul in it, and in this period of my life, I am looking for personal fulfillment more than anything else. My final goal is to be happy doing what I like and to make a living out of it. Today that's my principal goal and this inspires me to make music."
Listen to Mauricio's debut single "I wanna make it" on his website purpletoneflower.com.
Media Contact
Company Name: Purple Tone Flower
Contact Person: Mauricio Flores Sanchez
Email: Send Email
Country: Chile
Website: www.purpletoneflower.com