American Author and Creative Activist, Patience Carter, advises people on how to overcome adversity in her new book titled "Survive Then Live: The Patience Carter Story"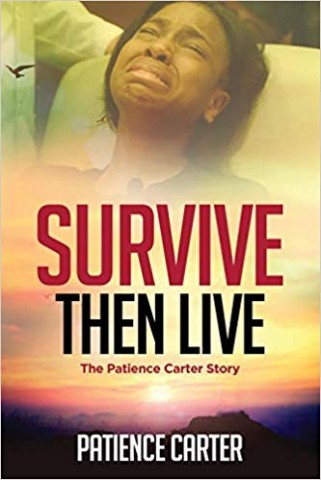 "Survive Then Live: The Patience Carter Story" is a captivating documentation of the events surrounding the Pulse shooting and how she was able to survive the traumatic experience and eventually falling in love with a fellow trauma survivor. The book is particularly unique and helpful as Patience shares her experience in a way that anyone can easily relate with.
The 12th June, 2016 will remain in the memories of millions of people in Orlando and other parts of the world. The shooting in an Orlando gay nightclub that led to the death of forty-nine people remains fresh in the minds of the residents of the city, but more importantly, the effects remain devastating. While some of the survivors of the shooting and their families have been able to overcome the struggles and effects of the traumatic experience, others still carry the unimaginable pain and grief of the experience. One of the very few individuals that have gone against all odds to overcome the pain, heartache, and loss of that terrible night is Patience Carter.
Patience had a first-hand experience of what has been described as "the deadliest mass shooting by a single person in modern US history." This incident irrevocably changed her life, suffering multiple gunshots to her legs and losing a friend after a hate-filled gunman opened fire in the nightclub. What was meant to be a fun night of drinking and dancing quickly became unimaginably tragic. Patience became a familiar face in the news in the aftermath of that terrible day, teaching everyone that pain is inevitable and that self-upliftment and becoming stronger was always possible.
In Survive Then Live, Patience continues to teach people the tips she used to survive the experience, advising readers on how to overcome adversity in a relatable voice. The book also tells the story of Patience in a way that has never been heard, showing the gritty journey behind the persona she displayed.
The book chronicles each step of the journey from heart-aching betrayal to falling in love with a fellow trauma survivor. The inspirational book is written in a language that can be easily understood by every reader.
Patience has also been featured on several media outlets including interviews with Glamour and Teen Vogue. Her most recent interview was with CNN, where she talked about the grief, guilt and cyberbullying she experienced after surviving the Pulse nightclub shooting in 2016.
"Survive Then Live: The Patience Carter Story" is currently available on Amazon for readers across the globe.
More information about Patience Carter and her works can be found on her website.
About the Author
Patience Carter is an American Author, Creative Activist, and Outreach Director for the Gun Violence Survivors Foundation. She is also a survivor of the Pulse Nightclub shooting that took place in Orlando, Florida, on June 12th, the deadliest terrorist attack in U.S. History since 9/11.
Along with the pleasure of meeting former President Barack Obama, Patience has sat down with a countless number of U.S. officials to speak about gun control, terrorism, and mental health issues in America. In recognition of her determined efforts to raise awareness and make changes, she was selected by the U.S. House Committee on Foreign Affairs to be the Victim Representative for a hearing in 2016. Mayor Joseph P. Ganim awarded Patience with the Key to the City of Bridgeport, Connecticut. She also received a special recognition certificate from Connecticut's Senator, Richard Blumenthal, for her extraordinary dedication and exemplary efforts to reduce violence.
The Teen Choice Awards presented Patience with their Courage Award in 2016. And last but not least, Congressman Charles B. Rangel of New York has recognized July 31, 2016 as "Patience Carter Day." Patience continues to speak out about her experience, and hopes to do her part to make our shared world a better place.
Media Contact
Contact Person: Patience Carter
Email: Send Email
Phone: +1 267-406-8929
Country: United States
Website: https://www.survivethenlive.com