The Heylol app has become a choice destination for young adults and teenagers who want a platform that prioritizes their privacy and offers them the freedom to express themselves in their unique way
Communication and instant messaging platforms have grown in number in recent years. They have become places where people, especially the Generation Z, pass time communicating with other users and engaging in photo sharing, blogging, social gaming, networking, video sharing, virtual worlds, and much more. Around 4.6 billion people worldwide interact with each other over instant messaging platforms, but the existing platforms have several flaws that prevent them from delivering an optimal experience for users. This is where Heylol is a standout.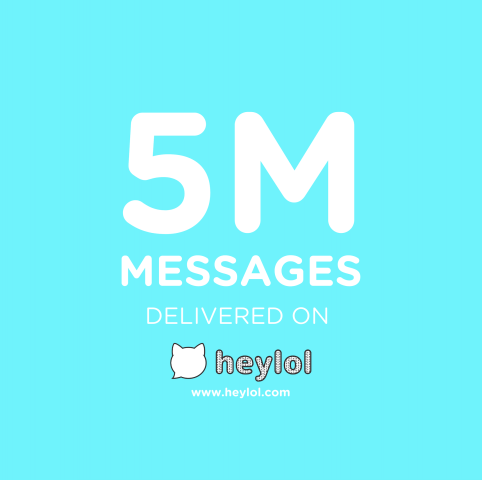 "In today's social climate, it is common for people to have online lives similar to those in the Metaverse," explained Adam Azani Gotthilf. "Heylol is bringing this concept to the realm of real-time messaging. Our messaging app is a home for like-minded communities to relax and communicate."
Heylol was launched as a public messenger platform that seeks to connect young adults and teenagers together, allowing them to express themselves freely and not worry about their personal details being shared like the top instant messaging platforms do. Today, the management of HeyTech Inc., developers of the Heylol app are pleased to announce that the app has crossed the 5 million messages delivered milestone. This feat is no surprise, as Heylol targets a generation of people who use social media in significant numbers—Gen Zs—and offers them a different feel to social media that is unlike the traditional and existing models.
Speaking about the feat, Founder of HeyTech Inc., Adam Azani Gotthilf had this to say, "We are excited to have achieved this milestone. Five million messages delivered is not a minor feat for a startup like ours. It proves that we are on the right track and that there is an immense demand for our products. We are excited about the future and look forward to continuing on our journey to influence people's lives positively."
The Heylol app is designed for users to message each other, share videos and images, watch viral videos, see the latest memes, and engage in group chats. It has an appealing, simple, and easy-to-navigate interface. The thrill of real-time interaction with other people, created by instant messaging platforms, can create a sense of connection between users. Heylol offers users the ability to share thoughts and ideas with other people, as well as receive feedback from them in real time, which can be a powerful way of connecting with other human beings.
Heylol is available for Android and iOS users. To get the app, please visit the Google Play Store or Apple App Store and get messaging.
Media Contact
Company Name: HeyTech Inc.
Contact Person: Adam Azani Gotthilf
Email: Send Email
Country: United States
Website: http://www.heylol.com/