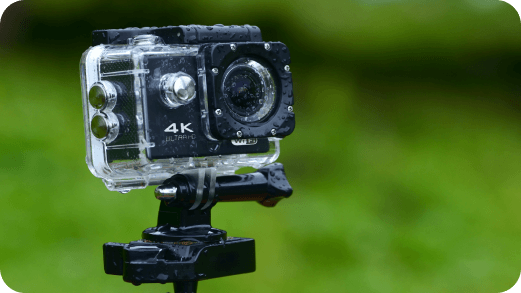 In the modern world, people enjoy recording each thrilling moment, and cameras are essential to achieving that goal. However, not all cameras are created similarly, so choosing the appropriate one to buy is essential. Selecting the ideal camera is much more than just shooting images. It's also about sharing and keeping those priceless moments alive. Choosing the correct camera becomes increasingly important as the trend of preserving memories continues to develop. Investing in a technology that transforms every occasion into an enduring celebration is more important than simply taking videos.
The Pro Xtreme Cam has been announced, a technological gadget designed for adventurous people who wish to capture their moments. This action camera is revolutionary in a time when sharing experiences is just as important as having them. The Pro Xtreme Cam is the ideal travel companion with its 4K video capabilities that redefine clarity, crystal-clear sound quality that engages a person in the harmony of his surroundings, and various advanced features to meet the demands of different scenarios.
Let's examine the inner workings of this remarkable device. The Pro Xtreme Cam is the best option for those looking to record their travels as life-changing experiences.
The ProXtreme Cam is more than just an ordinary camera. It invites people to experience enjoyable trips. The ProXtreme Cam is essentially a high-performance action camera that has been designed to capture life's most thrilling moments with unmatched accuracy. This camera is expertly designed to be your friend, turning breathtaking experiences into priceless memories.
The ProXtreme Cam projects toughness and durability at first appearance, protected by a durable and water-resistant casing made to withstand the roughest environments. Its ability to record captivating 4K video, which guarantees every detail of your traveling is preserved in clear vision, is what makes it unique. Beyond just taking great pictures, the camera also records crystal-clear audio to enhance your videos. The ProXtreme Cam lets a person relive the sounds and images of his adventures by transforming memories into multisensory experiences.
The ProXtreme Cam comes with a multitude of gear that are carefully developed to enhance your shooting capabilities and protect your investment, ranging from protective cases to multipurpose tripods. It is like a reliable assistant, making sure an individual is prepared for everything and allowing him to focus on his adventures rather than worrying about his gear. In addition to its powerful hardware, the ProXtreme Cam has features like lightweight remote control and anti-shake technology, which are designed to provide convenient control and preserve the stability of your photos, respectively. This camera records your activities with accuracy and style. It has become an essential tool for both beginners and experts in the vast world of action cameras. It captures the spirit of adventure, the never-ending quest for a better experience, and the complex art of storytelling.
Outstanding Video Quality:
With the amazing 4K video capabilities of the ProXtreme Cam, people can fully immerse themselves in the richness of his activities. Every little detail comes to life, raising the bar for action camera quality to an unprecedented level. The camera flawlessly captures the essence of the moment, whether an individual is participating in heart-pounding activities or traveling through magnificent scenery. Producing a visual masterpiece that enhances your storytelling is more important than simply recording.
Excellent Image Visual:
Say goodbye to the days of jagged, unsettling video. With its state-of-the-art digital image stabilization technology, the ProXtreme Cam raises the bar for videography. This function makes sure that your films stay steady and fluid no matter how dynamic or difficult the situation. Have no fear about recording quick motions, or shocking revelations without sacrificing the caliber of your film. It's revolutionary for individuals who require accuracy in each shot.
High-Quality Sound Recording:
Enter a world of rich sensory experiences because the ProXtreme Cam records crystal-clear images while maintaining perfect audio. The camera records sound in high definition, which improves the watching experience by letting a person remember his trip's audio sounds in addition to their breathtaking pictures.
Waterproof and Durable:
The ProXtreme Cam is more than just a camera, it's a travel companion made for challenging conditions. It's made for the daring adventurer. It is a useful tool for both onshore and aquatic adventures due to its sturdy build and waterproof qualities. Take on the elements on land or submerge yourself in the ocean; this camera is made to survive the trials of your excursions.
Versatile Accessory Package:
With the extensive accessory package for the ProXtreme Cam, a person can be ready for any adventure. It offers a range of features to improve your shooting skills and make sure that he is ready for a variety of situations. This accessory bundle is the ticket to creativity and versatility, whether a person needs to secure the camera in a waterproof case for underwater exploration or experiment with different views with many attachment choices.
16GB Micro SD Card Included:
A 16GB Micro SD card with a high capacity and an adapter is included with the ProXtreme Cam. This means a person doesn't need any additional attachments and can concentrate on the joy of his adventure and capture the exciting moments.
Compatibility with iPhone and Android:
The core concept behind the design of the ProXtreme Cam is seamless communication. This camera connects to both Android and iPhone platforms with ease, regardless of your preference. The ProXtreme Cam's compatibility ensures that a wide range of users may access and benefit from its features, making it an inclusive and user-friendly choice for all adventurers.
The ProXtreme Cam stands out in the competitive field of action cameras because of its technical specifications, which are the fundamental elements that determine its potential and capabilities. The ProXtreme Cam stands in this fiercely competitive market because of a variety of technical features that enable it to film experiences with accuracy and quality. To find out its more features, let's go into more detail:
4K Video Capture Resolution:
The ProXtreme Cam's 4K video capture resolution is a key component of its technical strength. A film with 4K resolution, which has four times as many pixels as Full HD, has outstanding clarity, brilliant colors, and striking contrast. Every frame becomes an artwork as your travels are documented with amazing clarity.
Photo Sensor Technology:
The camera's CMOS (Complementary Metal-Oxide-Semiconductor) picture sensor technology is what drives its exceptional visual quality. CMOS sensors are well known for taking excellent pictures and films while using less power. They work well in a variety of settings, including dark caves and the ocean's depths. By ensuring clear and colorful images, this technology raises the bar for photography and cinematography.
Slow Motion Recording:
The ProXtreme Cam's 120 frames per second (fps) capture rate is simply remarkable. This feature is especially helpful for slow-motion video recording since it enables users to create captivating stories with slow-motion effects and show minute details.
Image Stabilization:
The camera uses digital picture stabilization to combat the issues of camera wobble during exciting adventures. This technology ensures that your footage is steady and smooth by digitally modifying vibrations or motions. As a result, the videos are visually appealing and hold up well.
Versatile Framing:
The camera sets itself apart even further with its optical zoom, which gives customers a variety of framing choices. Optical zoom provides accurate picture placement, allowing a storyteller to be flexible when capturing distant areas in close-up or wide-angle landscape shots.
On-the-Go Convenience:
The small form factor of the ProXtreme Cam is designed for those who are passionate adventurers. Its lightweight and portable design frees a person from the burden of heavy gear so he can capture his moments easily.
Compatible with iOS and Android:
This camera's flawless connectivity with both iOS and Android devices is one of its best features. Through the use of specialized applications available in their app stores, users can link their smartphones or tablets to the camera with ease. Real-time picture previews, easy file transfers, and remote control capabilities are just a few of the opportunities made possible by this connectivity. Users can improve their shooting experience and transfer the content with ease.
Get ready for some serious savings on ProXtreme Cams. Customers can choose from these fantastic bundles. The deals are available at a 50% discount:
Customers can buy:
1 ProXtreme Cam
Price: $69.99 each
2 ProXtreme Cams Studio Pack
Price: $64.99 each
3 ProXtreme Cams Multi-Pack
Price: $59.99 each
4 ProXtreme Cams Deluxe Pack
Price: $54.99 each
5 ProXtreme Cams Family Pack
Price: $49.99 each
Hurry, these deals won't last forever!
The makers of ProXtreme Cam believe in the power and quality of their products, and they want their customers to feel the same confidence when making a purchase. That's why they offer a 30-day money-back guarantee. If they are unsatisfied, their money will be refunded back.
So visit the website buy with confidence and enjoy all the adventures while recording every moment of it.
The selection of the ideal camera becomes a vehicle that conveys the spirit of our stories in this digital age where memories are valued equally to experiences. It's an investment in building a legacy of moments that endure over time, as much as in equipment.
In the world of action cameras, the ProXtreme Cam stands out for its many superior qualities. Its 4K video capabilities improve the way a person records his experiences by giving each frame breathtaking clarity. The integration of picture stabilization ensures stable footage, even under difficult circumstances. With its robust construction and ability to adapt to both land and underwater conditions, the camera proves to be a dependable exploration partner.
The ProXtreme Cam's compatibility with both iOS and Android devices enhances its adaptability and guarantees accessibility for a wide range of customers. The 16GB Micro SD card, an accessory package that improves shooting skills, and several features catered for adventure seekers are all examples of its user-friendly features. To put it simply, the ProXtreme Cam is a full package that provides users who want to record and enjoy their exhilarating adventures with not just state-of-the-art technology but also an immersive experience.
The ProXtreme Cam proves to be a superior option in the cutthroat field of action cameras. It creates a vibrant picture of your adventures with its amazing 4K video quality, capturing every detail with breathtaking clarity. The dedication to stability through picture stabilization guarantees that, even under difficult circumstances, your footage stays at its best.
The ProXtreme Cam is an adaptable travel companion that goes above and beyond its technical capabilities. Its resilient and waterproof design bravely embraces both terrestrial and underwater settings, broadening the scope of discovery. Its inclusive connectivity with both iOS and Android smartphones improves its accessibility and makes it a valuable tool for all consumers.
Its user-centric approach is demonstrated by the thoughtful design, which includes a 16GB Micro SD card, a complete accessory set, and user-friendly features that turn the camera into an all-inclusive adventure bundle. The ProXtreme Cam is a fascinating option for individuals looking for an action camera that also offers an immersive experience for reliving their daring adventures because it combines state-of-the-art technology with an adventurous mentality.
Media Contact
Company Name: ProXtreme Cam
Contact Person: Media Relations
Email: Send Email
Country: United States
Website: https://rebrand.ly/ProXtreme