PerformancePSU, a website that has always aimed at providing in-depth pc guides and hardware reviews, recently decided to undertake a business rebrand and develop new website. The companies aim was to realign itself with today's current audience and increase its brand reach which had been dwindling over the past two years.

After much deliberation and arduous shortlist selection; PPSU decided to hire Andy Cresswell. Andy is a multiple award-winning web designer and web developer based in Essex, United Kingdom with a positive track record of producing high-quality websites and applications.

When interviewed, Andy said:
"PPSU was founded in 2014 and has always had the same style of the website. They have used the same brand colours since inception. They wanted to totally revamp the look and feel of the website user-interface and user-experience to coincide with the new pc overclocking information hub which was recently released."
The new website is a complete change of direction from the companies previous one which has been in place since 2016. The old website felt dated and lacked a connection with its audience demographics; pc hardware enthusiasts, die-hard overclockers and hardcore gamers.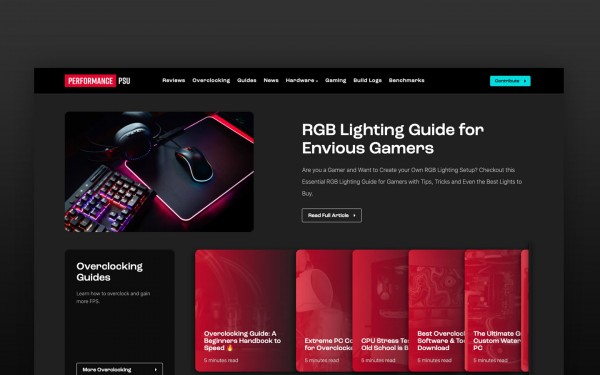 Brandon, who is a part of the PerformancePSU writing team also chimed in on the design process for their pc technology-focused blog;

"While I only just recently joined the writing team, Andy did his best to include me in the process the best he could. We wanted to try and migrate away from the orange colour palette that has been in place for so long. We tried a lot of colour combinations but ultimately, they ended up with my suggestion of using a dark theme with red accents – I think the new design is more focused on gamers and hardware overclockers as a result."
After looking at their new website, it is clear they are trying to differentiate themselves from competing websites and set the bar higher. The dark colour palette with bright colours stands out against their competitors.
The founder of of PPSU said:

"We are all really happy with the new website. Andy did a great job working with us and helping us to realise our thoughts. The reception from our community of overclockers, hardware enthusiasts and tech lovers has been fantastic. We had a few launch issues but they have all been worked out now."

PerformancePSU – https://performancepsu.com
Performance PSU is a blog dedicated to hardware reviews, overclocking guides, tech news, benchmarking and detailed build log. While they are focused on the pc component hobbyist segment of blogging, they have a die-hard following of readers.

Media Contact
Company Name: PerformancePSU
Contact Person: Andy Cresswell
Email: Send Email
Country: United States
Website: https://performancepsu.com/