Meet the young content creator/influencer with over 1.9 million followers on Tiktok.
A few days ago, popular content creator, Tala el sabeh, who has over 1.9m followers on Tiktok was featured on the biggest screen in Saudi Arabia. She is also well known for being a model and influencer on social media, but her journey didn't just start there.
Her fame started on TikTok back in 2019 where she used to create relatable comedy content and people liked it. And as she kept on creating she got more views and likes with her following increasing exponentially.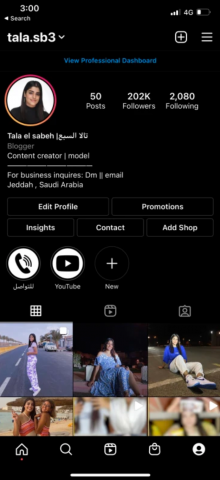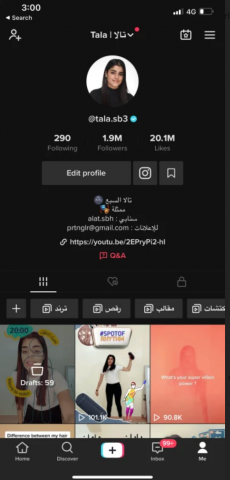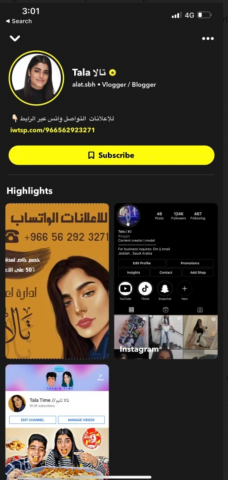 Tala el sabeh claimed that she has always had the passion to draw a smile on people's faces ever since she was a kid, she said, "I was always the clown of the class it felt good seeing and making people laugh."
The 20 years old from Lebanon was born and raised in Jeddah Saudi Arabia, where she has lived for most of her life, She graduated high school in 2018 just before her fame began and now is currently studying New Media in College.
Aside from having over a million-plus following on Tiktok, Tala el sabeh also has built a decent following on Instagram, with over 200k followers. She monetizes her following on Instagram by modeling for clothing brands. Her Snapchat is not left behind as she also has a vlog/blog going on there.
Tala el sabeh is a young, ambitious, and talented woman whose social media presence and growth in the past few years have been astonishing. It is no surprise that people love her and her content, because she is so passionate and good at what she does, simply putting a smile on people's faces.
Media Contact
Company Name: Tala el sabeh
Email: Send Email
Phone: 966503718786
Address:7957 Al-Madinah Al-Munawarah Rd, Al Sharafeyah, Ash Sharafiyah District
City: Jeddah 23218
Country: Saudi Arabia
Website: https://instagram.com/tala.sb3?utm_medium=copy_link