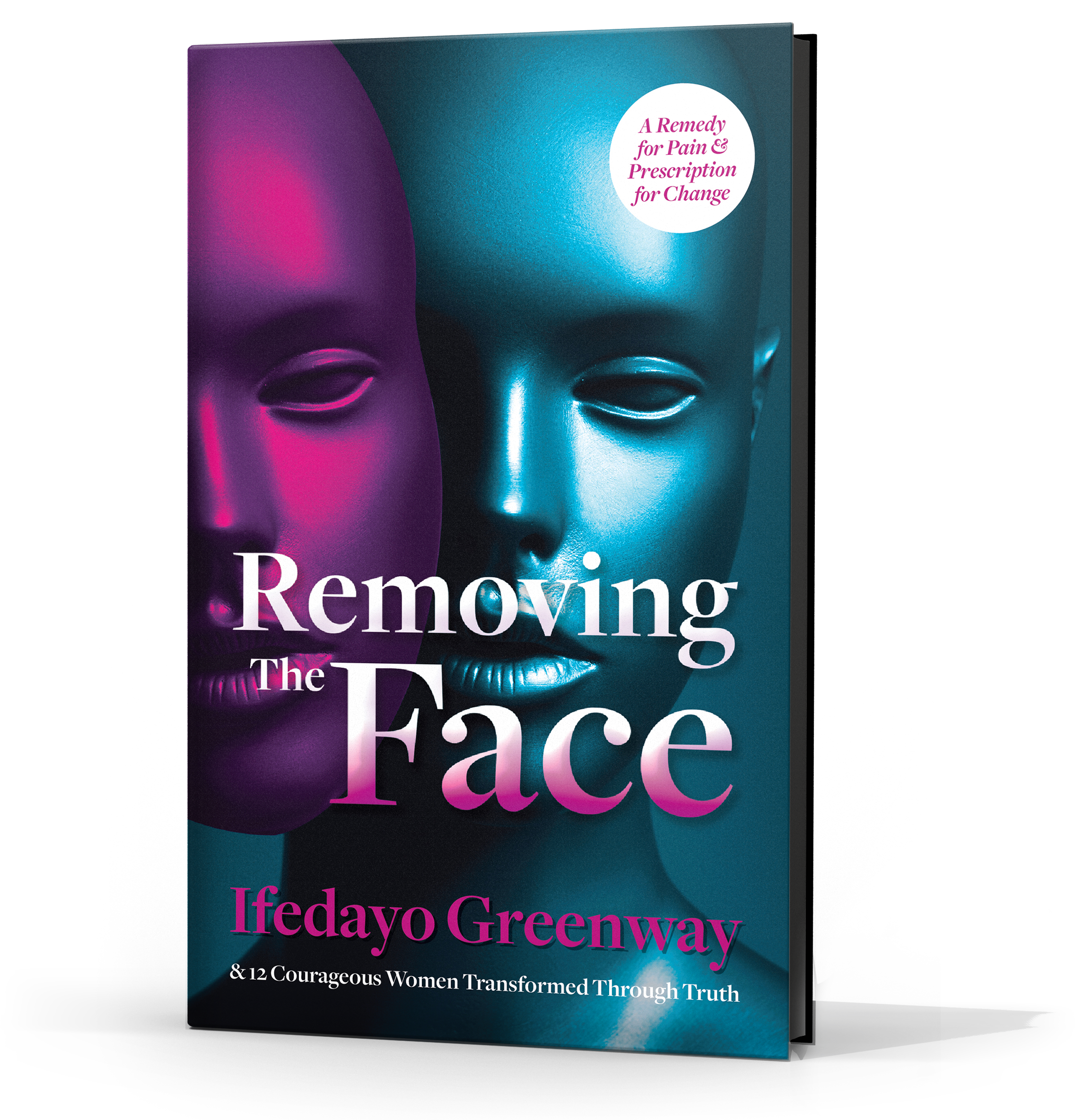 Far too many women know what it's like to let obstacles and adversaries leave them in a stagnant place of pain. Haunted by the faces of those who have hurt them, including themselves, they wear a mask to conceal their bruised emotions. To help them unveil the truth, acknowledge it, and embrace the lessons that can be found in those painful moments, Ifedayo Greenway has released Removing the Face: A Remedy for Pain and Manuscript for Change.
VIRGINIA BEACH, VA – January 30, 2020 – In Removing the Face, Ifedayo Greenway has joined forces with twelve resilient women to reveal their personal struggles; giving a voice to the power of change and offering a prescription for pain for those who are ready to heal and move forward.
"Regardless of all of my past hurts, ones that went as far back as my childhood, and regardless of who left, who stayed, who inflicted pain, who rejected, who exploited, who laughed, who pointed a finger, who took from me, or who tried to break me, it was imperative that I move on AND forward. Every bit of my journey was designed to teach me something," says Dayo.
The issues addressed in Removing the Faces will resonate with women from all walks of life and compel them to dig deep, do the work, and harness the bravery necessary to push past their struggles and defeat their fears once and for all. The candid and heartfelt narratives shared within this anthology will serve as a beacon of hope to all women who are willing to release their anger, extract the lessons from their pain, and position themselves to carry out their true purpose.
Removing the Face will be a catalyst for growth as it liberates women from their emotional burdens."Your pain has now become your pathway to purpose, and your adversary will always be a teaching tool and never again a successful opponent."
Ifedayo Greenway is a licensed minister, bestselling author, and personal development coach who works to impact and transform lives by helping women embark on their change journey. She is passionate about her faith and her assignment as a mother to nurture the lives of her three children. Ifedayo is also the CEO of IG & M.O.R.E. (Ife Greenway and Ministry of Real Empowerment). She uses her personal journey to strengthen others.
Published by Purposely Created Publishing, Removing the Face: A Remedy for Pain and Manuscript for Change is now available for purchase at www.igandmore.com.
Media Contact
Company Name: Purposely Created Publishing Group
Contact Person: Shani McIlwain
Email: Send Email
Phone: (888) 949-6228
Country: United States
Website: www.publishyourgift.com