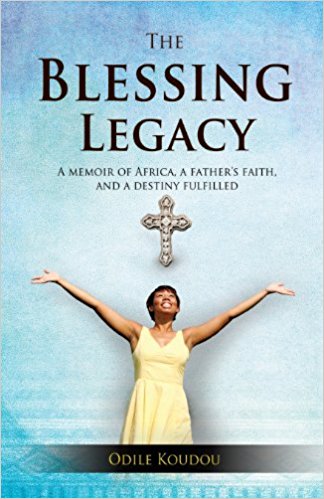 Award-winning Author Receives Bestseller Recognition for Her Debut Novel
Houston, TX – Odile Koudou's debut novel, The Blessing Legacy: A Memoir of Africa, A Father's Faith, and a Destiny Fulfilled named among Amazon's bestseller titles this November. A heartfelt tribute to her late father, the 9-time award-winning author's memoir has received numerous national and international awards.
A true story of faith, inspiration, and perseverance, The Blessing Legacy honors the life of the author's late father, Orega Koudou, who rose out of poverty to teach his daughter to never give up on her dreams. It chronicles the early life of a determined young girl who was taught to be a person of integrity and excellence. Since its 2012 release, The Blessing Legacy has inspired people all across the world which led to its Chinese translation last spring.
The Blessing Legacy is available at Amazon: https://buff.ly/37diWVO, Barnes & Noble, and Christian bookstores.
Koudou is thrilled about the recognition and excited about sharing her inspirational story with others. Her second novel Secret River of Unshakeable Faith was released in July. For more information on Odile Koudou and her literary works visit theblessinglegacy.com
About the Author
Odile Koudou is a 9-time award-winning author best known for her renowned literary work titled "The Blessing Legacy: A Memoir of Africa, A Father's Faith, and a Destiny Fulfilled." Born and raised in the Ivory Coast, West Africa, Koudou has made it her mission to encourage and empower people across the world who are born into less than favorable circumstances to rely on faith to rise to a life of joy and promise.
Find out more about this gifted storyteller at www.theblessinglegacy.com
Media Contact
Company Name: The Blessing Legacy
Contact Person: Media Relations
Email: Send Email
Country: United States
Website: www.theblessinglegacy.com