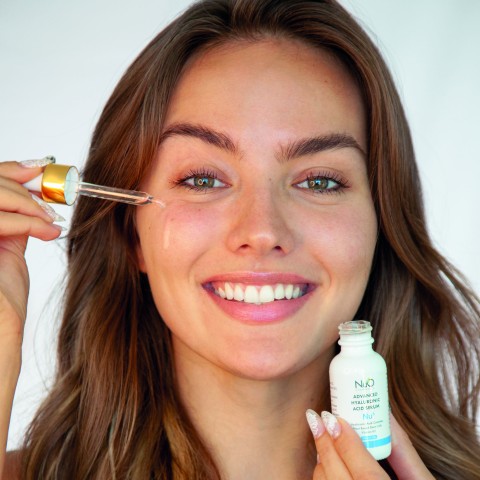 NuOrganic, an innovator within the cosmetic industry offering natural beauty solutions is introducing its Hyaluronic Acid Serum with Plant Stem Cells & B5.
The Hyaluronic Acid Serum was designed to restore the skin's hydration levels with NuOrganic's MD-approved 5% strength hyaluronic acid serum. The innovative PhytoCellular Science is used in the development of this hydrating serum to achieve noticeable results quickly – 92% experienced improved hydration in 7 days.
This facial serum penetrates deeper with cutting-edge nano-technology to deliver hyperactive molecules of HA in 5 weights. Holding six litres of water per gram, the HA gives a 100 hour hydration – higher weights to lock in moisture, medium to reenergize skin and lower to diminish fine lines and wrinkles.
Speaking about the serum, an executive of the company said: "Each bottle of our advanced hyaluronic acid benefits from 15 years of dedicated research by leading anti-aging scientist Dr Karazmi. We have perfectly balanced different molecules Hyaluronic acid to provide immediate and prolonged effects."
NuOrganic is especially proud of its Iconic Nu5 five weight Hyaluronic Acid supercharged with Provitamin B5 that protects skin barrier, an award-winning apple stem cell culture extract tha diminish signs of aging.
• Superior Multi-Molecular HA
• Other Brands – Sodium Hyaluronate won't pass all skin layers
• NuOrganic – Nu5 HA penetrates 18x deeper
• Long Term Sustainable Results
• Intense hydration
• Restore moisture
• Optimize firmness
• Anti-aging
• Calms redness
• Formulated with Dr Karazmi MD
• Phytocellular Science – 15 years of research for breakthrough moisturization
• Nano-Encapsulation – Unrivalled absorption of actives
• MD Tested Skincare
• 92% experienced improved hydration within 7 days
NuOrganic's hyaluronic acid serum for skin includes Apple Stem Cell Culture Extract (European Innovation 'Best Active Ingredient') to target the cellular matrix and provide outstanding antioxidant activity. Its users are advised to use the serum morning and night to renew their skin fromUV damage, protect their skin from oxidative stress and minimize signs of aging.
This vegan, organic and cruelty-free anti aging face moisturizer utilizes Provitamin B5 to attract moisture to the skin and retain it for a youthful and glowy appearance. Enjoy protected and perfected skin and stay free from fragrances, alcohol, parabens and mineral oils.
To take an indepth look at the NuOrganic Hyaluronic Acid Serum with Plant Stem Cells & B5, check out the company's amazon page.
Media Contact
Company Name: NuOrganic Cosmetics LLC
Contact Person: Chris Daniel
Email: Send Email
Country: United States
Website: nuorganic.com