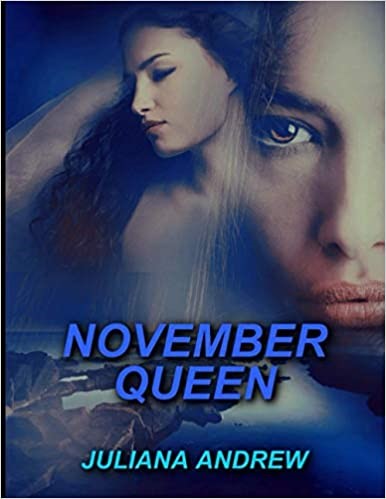 "November Queen" is a truly heartfelt and deeply traffic love story that has been written by Juliana Andrew. The story explores the relationship between November Queen and Johnathan Jurado and their feelings for one another.
January 28, 2021 – "November Queen" is a romantic novel that has been written by Juliana Andrew. The novel tells the protagonists' story of November Queen and Johnathan Jurado, who were destined to meet and fall in love, eventually getting married one day. November Queen and Johnathan Jurado met each other when she was only ten years old, and Johnathan was twelve. As they grew up and got married, they had a beautiful daughter named Johanna. Things were fine for Johnathan Jurado and November Queen and their lovely 11-year-old daughter Johanna. However, life turned difficult for November Queen once her father died. The death of her father affected November in ways that she could not explain. This incident's emotional impact on her life was largely irrational, and she could not easily come to terms with it.
Eventually, this had a major impact on November Queen's behavior. She was aware of this change herself, and eventually, she convinced Johnny to separate from her by going through a divorce for everyone's sake. It was then that Jonathan meets Emily. He briefly entertains the notion that his wife has developed an alternate personality but dismisses her behavior as paranoia. (For a certain period of time, Johnathan even entertained the idea that his wife has developed a split or an alternate personality.) As time went by, November moves to London for her treatment then and eventually remarried. Both Johnathan and November focus on moving on with their lives. For the next six years, neither Johnathan nor November has any contact with anyone except through their loving daughter.
Both of them eventually come back for the occasion of their daughter's wedding. There Emily brings a present for Johnathan, and both realize that they have intense feelings for one another. Eventually, Johnathan realized that November did not really leave Emily behind. Johnathan also feared that he may eventually never get back the one person he still loves dearly. Through this novel, Juliana Andrew explores the unspeakable and intense love that two people may have for one another.
About November Queen
November Queen is a romantic novel that has been authored by Juliana Andrew, who is a highly imaginative writer.
To know more about "November Queen," visit the Amazon book link, author's website, or any of her social media links: Facebook, Twitter, Tumblr.
About GOLDTOUCH PRESS, LLC
GOLDTOUCH PRESS, LLC is an established and experienced group of various publishing houses who teamed up to bring their clients accessible and competitive author services. They are the publisher of this great book 'The Book of Genesis: A Layman's Practical Expository' written by Michael J. Akers.
Media Contact
Company Name: GOLDTOUCH PRESS, LLC
Contact Person: Juliana Andrew
Email: Send Email
Phone: 888-404-1388
Address:420 Lexington Avenue, Suite 300
City: New York
State: NY 10170
Country: United States
Website: www.goldtouchpress.com/