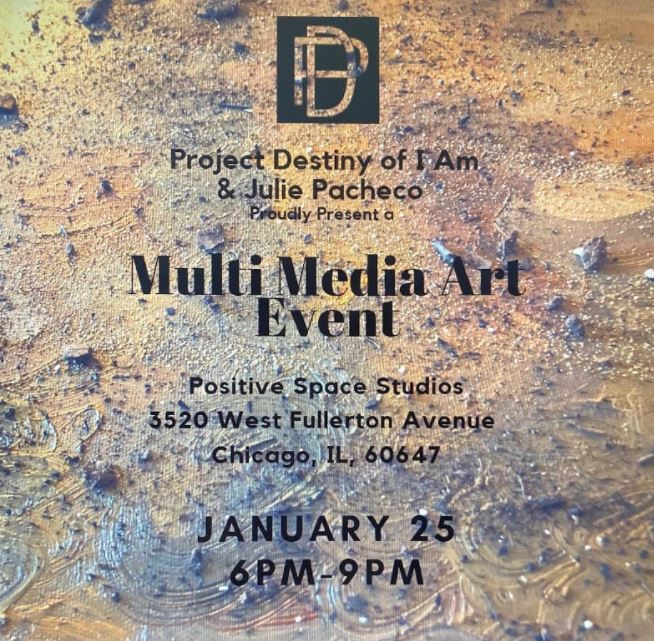 Chicago, IL – January 20, 2020 – Using the power of art to heal communities is the mission of this non-profit organization, 'Project Destiny of I Am' created by Julie Pacheco. The Project is pleased to announce its latest initiative, an art gallery opening on January 25, 2020. The upcoming Positive Space Studio art gallery will showcase author and artist Julie Pacheco's paintings, poetry, dance and music. The venue will also see the launch of the author's fiction novel, "The Destiny of I AM: The Crossing (Vol 1)".
For the fans of the mythological world, and those who love adventure, strange beasts and encounters with noble spirits, "The Destiny of I AM" is the perfect way to spend some time journeying into strange lands, which also turns out to be a fearless sojourn into one's own soul.
The protagonist Lily knows she is destined for great things. She lives with her brother, Mathis, and mother, the Queen Adelina Arluin. However, the Queen's new marriage introduces an evil husband who would like to see them all killed. Lily is saved by a magical figure savior and embarks on a search to locate her missing family. The readers come face to face with the secrets of this enchanted land, which includes some really hungry creatures called the Tukkars.
"This book is a rare jewel. Ms Pacheco has a unique writing style that left me savoring and deliciously anticipating her next turn of phrase. A great new author is born," says a recent reader review.
The art gallery exhibition will also display works of other artists who have taken inspiration from the book. For the Project, self-expression and personal growth are linked with artistic creations, and they are instrumental in creating a sense of well-being in communities.
'Project Destiny of I Am' works with at-risk and underprivileged youth, using the medium of art, education and conservation programs. The Project was founded to fill up the vacuum for non-profit work in the field of community healing via art and create sensible solutions.
"We focus on making the maximum positive effort to heal communities. Our members and volunteers provide the momentum that helps us affect change. Using data driven models, we provide solutions that make a long-lasting difference," says Julie Pacheco.
Julie Pacheco is a passionate animal activist, and uses her love for animals and her dedication to drive social change. She has a mixed ethnic background of Puerto Rican, German, and Polish origins. Pacheco lives with her dog, Jacy, in Chicago, Illinois. She enjoys experiencing all the music, food, and vibrant culture the city has to offer.
Watch the YouTube trailer of 'The Destiny of I Am':
Buy from Amazon: https://www.amazon.com/dp/153769085X/
For more information, please visit: www.projectdestinyofiam.org
Media Contact
Company Name: Project Destiny of I AM
Contact Person: Julie
Email: Send Email
Phone: 773-865-2639
Address:2011 W. 18th Street
City: Chicago
State: IL 60608
Country: United States
Website: https://projectdestinyofiam.org/