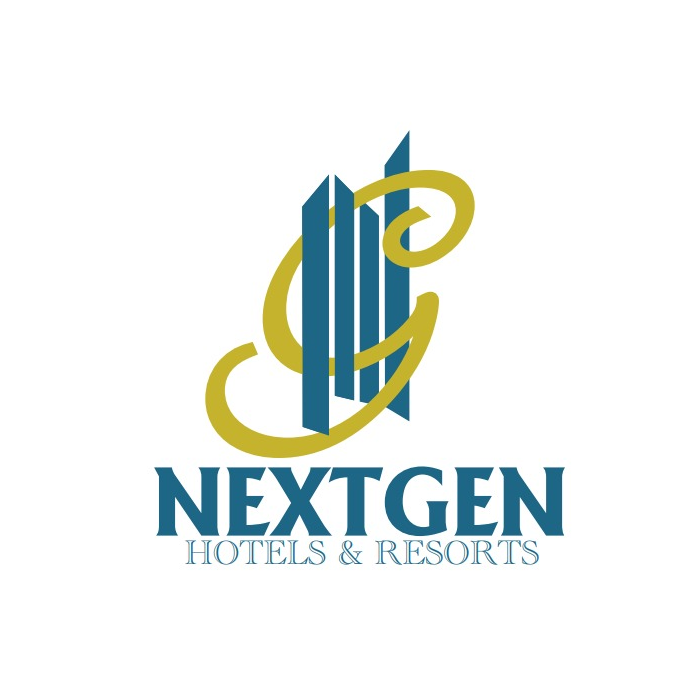 Nextgen Hotels & Resorts was established In 2016 by a group of passionate hoteliers and hospitality experts who made a commitment to help independent hoteliers to be champions in the hotel industry. Together, they created NextGen which is a New Jersey-based organization focused on helping independent hotel owners meet the highest quality standards, thereby achieving competitive excellence.
The founder and CEO Upendra Gulrajani has over 38 years of experience working with major hospitality brands in India and North America. Devoted to the idea of 'hospitality' as an opportunity to curate an experience, he has created and conducted numerous training programs on subjects such as Attitude Development, Management Development, and Wow Guest Experience. Upendra holds a degree in Hospitality Management and specializes in product development, operating systems, creating standard operating manuals, menu merchandising, event planning, developing marketing strategies and budgeting.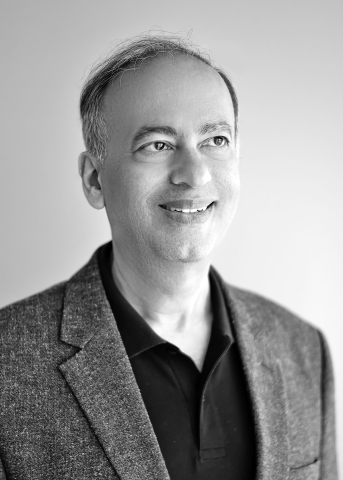 All the team members have mastered their skills with the years of experience and proven results that they have got. With NextGen's quality certification, independent hotels can guarantee their customers quality of service at par with the best in the industry, thereby gaining an extra edge in a cluttered, competitive market. NEXTGEN is targeted to independent boutique properties. The concept is simple, they establish brand standards for you, monitor your quality and reputation. This allows you to be aware of, and pay attention to, details and standards that will yield positive results. NEXTGEN is a team of experts who have built brands across the globe. Partners are based in over 3 continents to offer support, this is what makes NEXTGEN unique. Nextgen Hotels & Resorts is trying to educate hotels. A certificate will be provided to hotels who will be screaming quality assurance guarantee.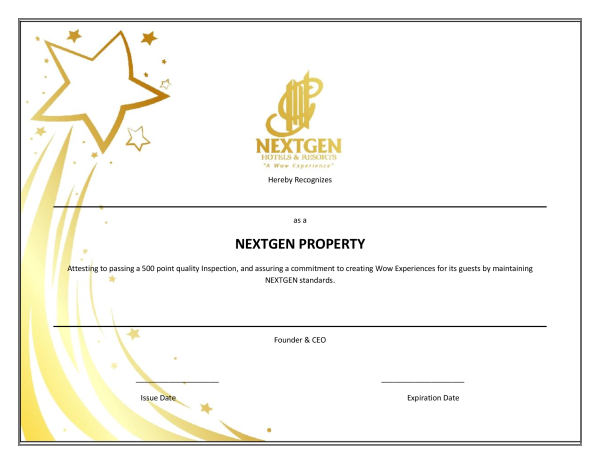 To get certified by the Nextgen Hotels & Resorts, write to them at info@nextgenhotelsandresorts.com. They will get in touch with you and begin the on-boarding process. After a preliminary briefing call, they will share with you the NextGen Brand Standard Manual—covering the complete guest experience, including accommodation, service, cuisine, employee behavior, and facilities. This is the benchmark your hotel's quality standards must measure up against. There will be quality checks every month as a member of their team will visit your property every month for a shop call, evaluating your quality standards. Basis the inspection, you will be provided a detailed report with actionable insights to help you enhance brand standards, improve operational excellence, and reduce risk to brand reputation. When you partner with Nextgen Hotels & Resorts, you'll get access to exclusive webinars conducted by hospitality industry veterans, arming you with the freshest strategies to stay at the top of the hospitality game. Also, when you partner with Nextgen, you get the NextGen 500-point Brand Standard Manual, monthly check-ins from industry experts, and insightful and actionable reports and feedback to help you meet the most stringent hospitality standards. You can get started now buy contacting them.
Nextgen Hotels & Resorts contributes to water.org to bring clean water and better sanitation facilities to communitites in need.
Facebook: https://www.facebook.com/NextGenHotels/
LinkedIn: https://www.linkedin.com/company/nextgen-hotel-resorts/
Instagram: https://www.instagram.com/nextgenhotels/
Media Contact
Company Name: Partnered Synergy
Contact Person: Upendra Gulrajani
Email: Send Email
Phone: 1 908-510-2126
Address:925 new dover road
City: Edison
State: New Jersey
Country: United States
Website: www.nextgenhotelsandresorts.com