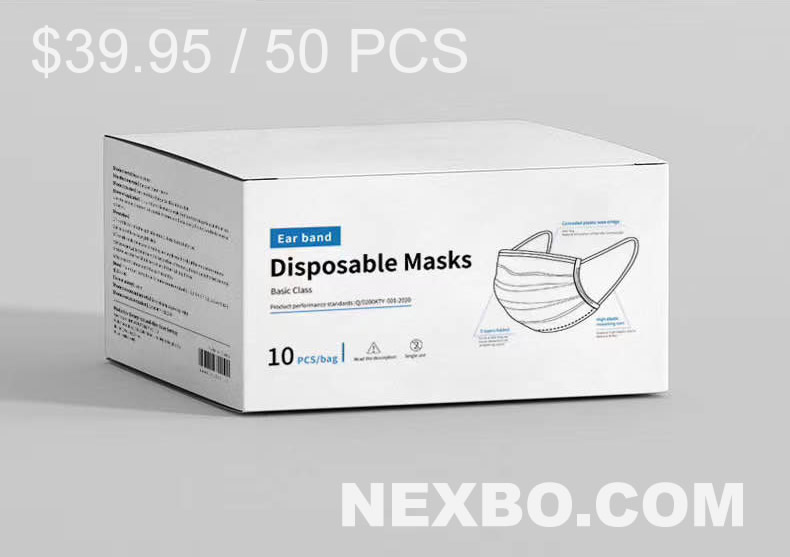 March 25, 2020 – Leading safety supply store, Nexbo.com proudly announces their continued support during these challenging times by providing affordable surgical masks for protection against COVID-19. Available to both health workers and the public, the surgical masks provided by Nexbo.com are of high quality and can help shield the rapid spread of the virus among people.
The 3 Ply Surgical Face Mask Disposable medical COVID-19 mask is CE/FDA certified and widely acknowledged as effective in preventing the transfer of nasal droplets from infected people to others. The disposable surgical mask has three layers of protection with a filter layer and has a skin-friendly non-woven layer.
"We are glad to be of help to people around the world in this trying time. Our thought goes out to everyone impacted by the Covid-19 pandemic, and we are positive together we will come through this. At Nexbo.com, we are helping people stay safe and protected as we supply the best surgical face mask available in the market. Effective for protection against germs and viruses, our surgical mask protects your nose from getting infected," says Michael Young
He says further, "As noted by world health experts, the COVID-19 is transmitted through the nose, eyes, and throat. Our surgical masks are not only affordable; they are CE/FDA approved and came with a design that gives you an extra layer of protection."
To place an order for the surgical mask set, visit Nexbo.com
To place an order for the wholesale package, thereby reducing costs, visit the Nexbo Wholesale page.
Designed for easy breathing, the face mask from Nexbo is comfortable and perfect for protection against dust, allergies, germs, and viruses. As more nations enforce social distancing and stay at home orders, wearing a Nexbo surgical provides adequate protection while going out to do essential activities like buying groceries, visiting the hospital, or care for elderly family members.
Media Contact
Company Name: Nexbo.com
Contact Person: Michael Young
Email: Send Email
Phone: +1 (970) 300-1273
Country: United States
Website: https://www.nexbo.com