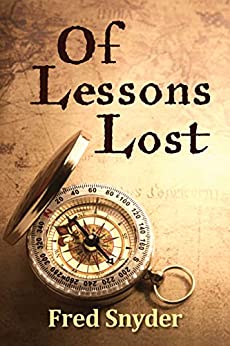 "Of Lessons Lost" by Fred Snyder has been released worldwide. This 322-page novel, rooted in World War II history and the realities of modern Arab-Israeli conflict, follows brothers Yaakov and Lazer through their escape from a Nazi transport, surviving the rest of the war isolated in the forest, and the conflicts they encounter when they finally return home.
As the story continues, the brothers' descendants become the focus as readers see the consequences of their decisions unfold over subsequent decades. Themes of misinformation, distorted history, and self-serving beliefs underpin this broad, fast-paced story, and the characters' experiences raise poignant questions about how we discuss modern-day military aggression, particularly the ongoing Arab-Israeli conflict. Snyder's vivid and compelling storytelling weaves together the threads of the past into an informative message of sacrifice, heritage, and the ways collective perception can change the course of history.
Of Lessons Lost (ISBN: 9798218039523) can be purchased through Amazon. The paperback retails for $17.99 and the ebook retails for $9.99. Review copies and interviews are available upon request.
About the book:
This fast paced novel opens with brothers Yaakov and Lazer's daring escape from the back of a Nazi vehicle en route to their execution in occupied Poland. Surviving alone in the woods until the war ends, the brothers return to their hometown in search of Wilus Chomelstien, the mayor that had informed the Germans of their plans to organize an armed resistance. The brothers want Wilus to pay for his disloyalty. But the outcome of their meeting with Wilus will haunt them and their descendants far into the future.
Media Contact
Company Name: MindStir Media LLC
Contact Person: Jen McNabney
Email: Send Email
Phone: 800-767-0531
Address:1 New Hampshire Ave Suite 125
City: Portsmouth
State: NH
Country: United States
Website: https://mindstirmedia.com/