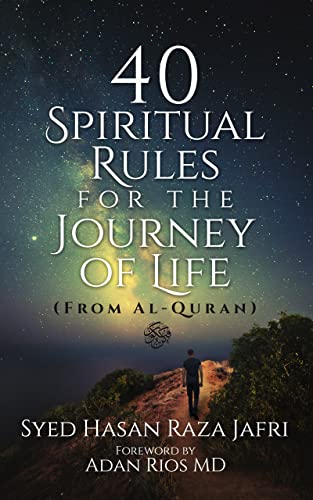 "40 Spiritual Rules for the Journey of Life (from Al-Quran)" by Syed Hasan Raza Jafri has been released worldwide. This 91-page spiritual guidebook draws on powerful lessons from Al-Quran that provide meaning and empowerment for people of any faith.
Recognizing an increasingly troubled and disaffected world, the author uses passages from Al-Quran and related reflections to present a collection of 40 universal rules for a more balanced, spiritually focused life.
The book helps readers refocus attention on matters of the soul. While modern science and technology have their advantages, the resulting focus on the physical world only has pulled our attention away from the essential life lessons found in spiritual harmony. The spiritual rules for life mentioned in this book aim to create greater understanding of why things happen in our life, how to contend with life's challenges, and how to unleash the amazing power of human potential.
A self-help book at heart, this mystical and philosophical collection of age-old wisdom is both timely and timeless. These lessons lead directly to a more connected, fulfilling life with practical tips and enlightening advice.
40 Spiritual Rules for the Journey of Life (from Al-Quran) (ISBN: 9781958729717) can be purchased through retailers worldwide, including Barnes and Noble and Amazon. The paperback retails for $14.95. Wholesale orders are available through Ingram. Review copies and interviews are available upon request.
From the back cover:
Human beings have deciphered a number of rules and laws that govern the working of the physical universe. Just like these physical rules that govern the physical world, there are rules and laws that govern a much deeper and more profound world of spirituality.
In the modern world, we have been ignoring spiritual aspects of our existence, which has created an imbalance in our being, manifesting itself through dysregulated emotions, mental health problems, poor ability to cope with stressors of life, inability to maintain long-term relationships, and even episodes of self-harm and violence against others.
While science and technology are very useful, the use of 5G, artificial intelligence, and electric cars is not going to solve our basic problems in our personal and social lives. On the other hand, by following certain universal spiritual rules, we can tap into the tremendous potential within our own souls to transform our lives as well as the human society.
This book describes forty universal spiritual rules adopted from the Al-Quran, the holy text of Muslims, which are applicable to most of us, to help us better understand why certain things happen in our lives at a spiritual level and how can we lead a more spiritually fulfilling life. This book is intended for all people with a basic belief in a higher power, i.e., God and consciousness beyond death, irrespective of their religious denomination.
In order to limit our personal conflicts, have a more harmonious co-existence, and unleash untapped human potential, the world needs a new civilization whose foundation is based on spirituality. Some of us can sense that civilization is very close, and this book is an attempt to help us get there.
About the author:
Syed Hasan Raza Jafri is a thoracic medical oncologist (lung cancer specialist) and a cancer researcher. He is the author of another book called God and god of Science which attempts to answer big questions of life about our existence from the perspective of science and monotheism. He has also produced a documentary with a similar title available on YouTube. He grew up in Pakistan but now lives in Houston, Texas with his wife and three kids.
About MindStir Media:
MindStir Media LLC is an award-winning book publisher. To learn more about publishing a book with MindStir Media, visit http://mindstirmedia.com or call 800-767-0531.
Media Contact
Company Name: MindStir Media LLC
Contact Person: Jen McNabney
Email: Send Email
Phone: 800-767-0531
Address:1 New Hampshire Ave Suite 125
City: Portsmouth
State: NH
Country: United States
Website: https://mindstirmedia.com/