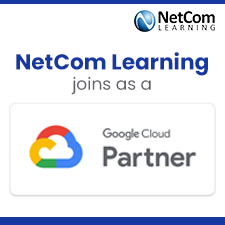 NetCom Learning Joins Cloud Partner Advantage for Google Cloud
New York, NY – NetCom Learning, a US-based IT training and consulting organization, today announced that it has joined the Google Cloud Partner Advantage Program as a Consulting Partner, giving customers the ability to seamlessly migrate to Google Cloud and utilize its benefits. This collaboration will allow business users to implement Google Cloud's platform in their organizations with the help of NetCom Learning's Cloud Consulting Services. Being a Google Cloud Partner, authorizes NetCom Learning to provide Google Cloud services such as Infrastructure Services, Network Services, Computing, Analytics, and Storage Services, among others.
The announcement comes at a time when businesses around the globe are aggressively moving towards the cloud. In the wake of this worldwide pandemic, organizations are either adopting cloud to stay afloat in highly volatile markets or to gain a competitive advantage over other players in the industry. Adopting Google Cloud using support provided by NetCom Learning can help businesses cut infrastructure costs, gain operational efficiencies, and save time and resources.
As a Google Cloud Partner, NetCom Learning is offering services in the areas of Google Cloud migration, Application Development, AI and Machine Learning, IoT, Big Data, and Chatbot Development. Since every business entity is unique in its own way, a one-size-fits-all approach doesn't work when it comes to cloud adoption. NetCom Learning conducts a detailed evaluation of a business environment along with its specific needs and objectives. The company then supports customers in implementing a cost-effective, secure, and reliable Google Cloud infrastructure that helps them realize the true potential of Google Cloud for their business.
NetCom Learning CEO Russell Sarder commented, "We are delighted to be a part of this ongoing cloud wave that promises to transform businesses and catapult them towards unprecedented growth. With more than two decades of experience and expertise in IT training and consulting, we look forward to helping catalyze the digital transformation of our clients using Google Cloud."
About NetCom Learning
NetCom Learning is an IT training & Business Consulting organization offering services to enterprises and federal agencies looking to upgrade and upskill on the latest technologies. It is ranked in the list of Top 20 IT Training Companies by TrainingIndustry.com. NetCom Learning offers over 3000 courses to cater to the business and technology training needs of a company. The company helps build innovative learning organizations in the workplace by structuring a smarter workforce, supporting changes, and driving growth. For over 22+ years, NetCom Learning has serviced over 80 percent of Fortune 1000 companies and helped over 14,000 organizations achieve their business goals.
Media Contact
Company Name: NetCom Learning
Contact Person: Media Relations
Email: Send Email
Phone: (212) 629-7265
Address:252 West 37th Street Suite 1200W
City: New York City
State: NY 10018
Country: United States
Website: https://www.netcomlearning.com/