Words Matter Publishing, an Illinois-based publishing house has signed a deal with Shanalee Sharboneau to publish the author's new books from now on
Shanalee Sharboneau, a Nationally & Internationally Awarded Author, Speaker, Host, Model, and Influencer is pleased to announce her new publishing deal with Words Matter Publishing, an Illinois-based publishing house that would put the publishing firm in charge of Shanalee's book publishing effective today. The author made this announcement as she solidifies plans to launch more exciting children's books in the coming years.
According to Shanalee, the deal between her and the publisher was possible following considerations of the publisher's capability to manage and fulfill the demands of Shanalee's new book in national and international markets. Both parties are optimistic about a good working relationship as Shanalee hopes to make more children's books.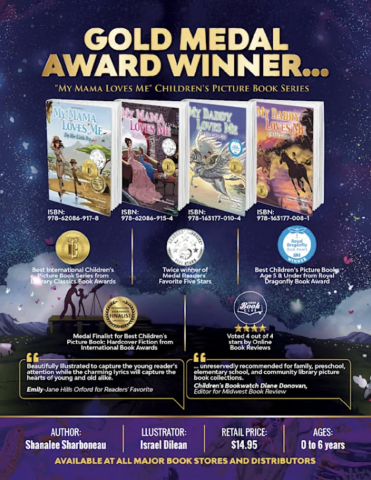 Shanalee's rise to stardom as a children's book author came from her first book series "My Family Loves Me" which was sold and recognized worldwide. In honor of National Reading Awareness Month, Shanalee received the prestigious "Moving America Forward" Award and was featured on the television show "Moving America Forward" hosted by William Shatner. Japan's "Today's Up-Close" featured Shanalee in their Japan-aired segment and Van on The Van Show, shown to kids all over the nation.
She has been featured on multiple radio shows including "In The Know" by Brian Glenn, "X Roads TV" by Sharifah Hardie, "Passport Mommy" by Michelle Jerson, "The Flying Burrito Show", "Author Talk" and "The Author Show" broadcast to her fans locally and globally. Her magazine and paper interviews include Deseret News, Austin Family, Avery Ranch Living under the piece "Someone You Should Know", "Loving Female Relationships" by Te-Erika Patterson, and Safari International, just to name a few.
Shanalee is an award-winning writer and author. She was awarded Finalist In Literary Classics For Picture Book Series From The International Book Awards And Reviews, Medal Finalist in the 2016 International Book Award For Best Children's Picture Book: Hardcover Fiction, Featured and Awarded On "Moving America Forward" Show Hosted By William Shatner, Medal Readers Favorite Five Stars, Twice, and Winner of The Royal Dragonfly Book Award For Best Children's Picture Books Age 5 & Under.
Rated 4 out of 4 Stars from the Online Book Club, Shanalee's books have been recognized by the President of Ireland, Michael Higgins, and Financial Guru, Dave Ramsey. Her books are sold online worldwide including in Ireland, Australia, New Zealand, Finland, Denmark, Sweden, Austria, Russia, Germany, Japan, China, Mexico, Spain, Italy, India, France, and parts of Africa.
About Words Matter Publishing, LLC
Words Matter Publishing was founded by Tammy Koelling with the specific goal of launching the writing careers of new authors. The publishing house officially opened in November 2016 as a traditional publishing house with a Progressive Publishing Program to help new authors achieve their publishing goals.
For more information, please visit https://wordsmatterpublishing.com/about/.
Media Contact
Company Name: Words Matter Publishing, LLC
Contact Person: Tammy Koelling, CEO
Email: Send Email
Country: United States
Website: http://www.shanaleesharboneau.com/