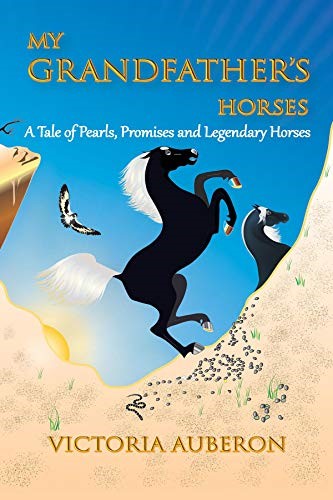 March 19, 2020 – Horses are integral to human civilization – the domestication of horses, mules and donkeys settled the Old West and allowed travel, warfare, and equine sports. My Grandfather's Horses: A Tale of Pearls, Promises, and Legendary Horses, is written by Victoria Auberon. The book is a historical novel inspired by the author's own life experiences, with horses being an integral part of the story.
While growing up, horses had been instrumental in shaping Victoria's life, and that's what she has incorporated into this book. Besides taking place in Baja, Sur Mexico, it is centered in the horse, mystery, western, historical fiction, romance, and young adult genre.
As for the story in My Grandfather's Horses: A Tale of Pearls, Promises, and Legendary Horses, it is an intriguing blend of ghosts, a legend and dimensional animal and human characters that slowly seep into the psyche, deepening the nourishing read. The book recounts the story of a young Mexican American man who gets the extraordinary opportunity to live with his great-great-grandfather in a cattle ranch in the desert in Baja, Mexico. What follows is a mental feast for horse-lovers and ranchers.
Victoria Auberon says about My Grandfather's Horses: A Tale of Pearls, Promises, and Legendary Horses, "It was first composed long hand starting in 1990 before becoming a full-fledged book. It was first in the form of a screenplay, also written by me." She continues to say, "My Grandfather's Horses is a work of Historical Fiction describing the lifestyle and secret ways of Old-World cattle barons and horse breeders of a bygone age hidden out of view of society in its day."
My Grandfather's Horses: A Tale of Pearls, Promises, and Legendary Horses is born from the English-American author's hobbies and interests revolving around horses. The book's author influences are Captain Horace Hayes, Sir Arthur Conan Doyle and JRR Tolkien. This book will appeal most to horse, mule and donkey lovers, but just about any avid reader will enjoy this peek into a bygone era infused with magic realism.
For more information, visit Amazon book link https://www.amazon.com/My-Grandfathers-Horses-Promises-Legendary-ebook/dp/B07X6KK31Q/ref=tmm_kin_swatch_0?_encoding=UTF8&qid=1572382923&sr=1-1
About the author
Victoria Auberon's interactions with the private, privileged class of Baja California gentlemen horse breeders and cattle barons of the 1960s and early 1970s inspired My Grandfather's Horses and its sequel, My Grandfather's Gold. Also, range ponies, two bronco mares and a colt she handled from age thirteen to sixteen on the island of Cerralvo, an otherwise uninhabited desert island, later renamed Isla Jacques Cousteau, played an indispensable role in authoring My Grandfather's Horses.
Website: http://booksbyvictoriaauberon.com/
Social Media Accounts:
Facebook: https://www.facebook.com/Victoria-Auberon-100612824741533/
Tumblr: https://authorauberon.tumblr.com/
Twitter: https://twitter.com/AuthorAuberon
About GOLDTOUCH PRESS, LLC
GOLDTOUCH PRESS, LLC is an established and experienced group of various publishing houses who teamed up to bring their clients accessible and competitive author services.
Media Contact
Company Name: GOLDTOUCH PRESS, LLC
Contact Person: Victoria Auberon
Email: Send Email
Phone: 888-404-1388
Address:420 Lexington Avenue, Suite 300
City: New York
State: NY 10170
Country: United States
Website: https://www.goldtouchpress.com/