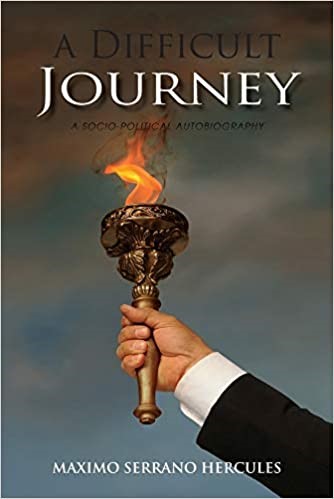 Vancouver, B.C, Canada – March 19, 2020 – El Salvador is a country in Central America and is notorious for her crime rates. A Difficult Journey: A Socio-political Autobiography offers a glimpse into life in El Salvador by a former El Salvadoran, Maximo Serrano Hercules. The emphasis in the book lies in how people live in developing countries that is a euphemism for third-world countries. Talking of the socio-political angle, this autobiography delves into El Salvador's impoverished and abject ethos.
A Difficult Journey: A Socio-political Autobiography serves as a window for people from other better-off countries. This is to enable them to know how people are exploited and denied fundamental human rights to live in countries that are racked by the extreme lack in terms of resources, income, and amenities. It is subsisting in the way of life for these underprivileged hoi polloi that is vulnerable and easily exploited.
Maximo Serrano Hercules said, "Brace yourselves as this book will take you into a world of trepidation, continued existence, supremacy, and valor." He further said, "My story in my book is dramatic in terms of being born and raised in an undeveloped country. My Spanish professor judged me for escaping from war. After being on both sides, fighting to survive in the middle of a war, and looking for a way to survive racism, I wrote this book."
Maximo writes how El Salvadorans living in deprived conditions are surviving and not giving up the fight for their rights. Ill-fate is what most people will mourn if they are weak, and this book describes grit in people in fighting back and reclaiming their share of the economic pie. This book is an inspiring account of beating the odds. The author pens how the willpower to overcome adversities fortified by faith make things turn favorable.
For more information, visit https://www.amazon.com/Difficult-Journey-Socio-political-Autobiography/dp/1733421491/ref=tmm_pap_swatch_0?_encoding=UTF8&qid=1568999560&sr=1-2
About the author
Máximo Serrano Hércules was born in February of 1961 in El Salvador. He came from a peasant family working in the countryside. He had very little education due to the precarious economic conditions in the country. By the simple instinct to preserve life, he was forced to migrate to other countries. He adventured on a working journey in different, unfamiliar lands – from Guatemala, Mexico, the United States, and Canada by infrahuman status as an undocumented person. Because of the greedy war problem that caused bloodshed in his country, the United Nations in 1989 granted him a permanent residency in Canada – he now works as a Canadian Citizen. He uses his free time for literature – he loves poetry and anything associated with arts and culture.
Website: http://maximoserranoherculesbooks.com/
Social Media Accounts:
Facebook: https://www.facebook.com/Maximo-Serrano-Hercules-100168718071057/
Twitter: https://twitter.com/MaximoHercules
Tumblr: https://authormaximohercules.tumblr.com/
About Toplink Publishing
Toplink Publishing offers highly scalable platforms that are growing quickly, positioned to become the global leader in accessible and strategic publishing and marketing solutions. For new book/books to publish or publicize one's published work, contact by calling 1-888-375-9818.
Media Contact
Company Name: Toplink Publishing
Contact Person: Maximo Serrano Hercules
Email: Send Email
Phone: 888-375-9818
City: Kelly
State: North Carolina
Country: United States
Website: https://www.toplinkpublishing.com/