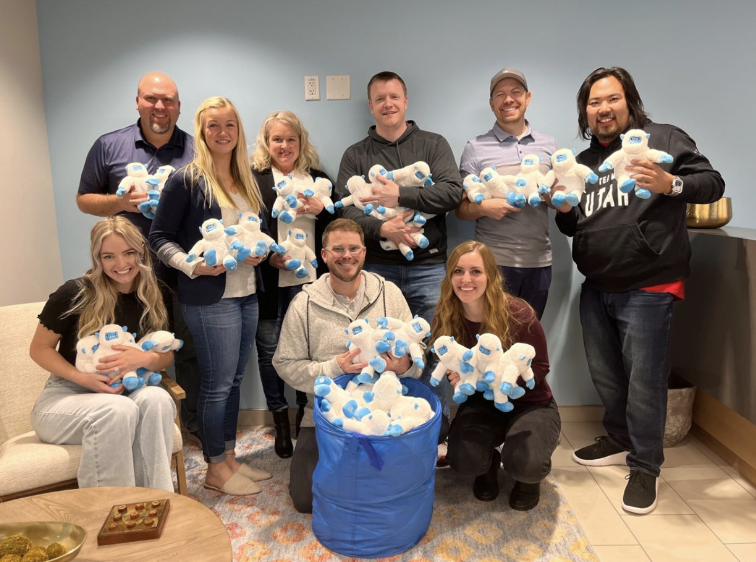 Motivosity's generous donation helps Tacos Together push towards their grand goal of 10,000 toys!
Levi, Utah – Nov 28, 2022 – Leading employee engagement and recognition software Motivosity, recently teamed up with Tacos Together, a community development company based in Utah, to spread some holiday cheer in donating 500 cherished stuffed yetis. The yeti plush, also the face of Motivosity, is sure to bring a smile to absolutely anyone he may stumble across!
"The Motivosity team is fortunate in so many ways. We have a powerful mission, great customers, and a great community to be a part of. This was just a small way to give back and share some love with those around us," says Logan Mallory, VP of Marketing at Motivosity, "We focus on helping make people happier at work, but maybe the only more important mission than that is making kids happier at Christmas".
Tacos Together will be sleighing towards the 10,000 toy goal on December 1st at Automotive Addiction, 10450 S State St Sandy UT 84070. This fun filled event will feature an ugly sweater fashion show, and also gives participants the chance to win super cool prizes.
Interested in Donating?
Toys collected by Tacos Together will be donated to local charities to help kids in need. Cuddle Buddies is offering an exclusive discount on their stuffed animals to anyone looking to make a donation, and the donation bins can be found at Dirty Dough locations across Utah Valley!
About Motivosity
Motivosity is a platform that promotes gratitude and connection. We're in the "employee recognition" category, but when you look at our competitors, they will talk about catalogs, swag, points, and gift cards. Motivosity checks all those reward boxes, but we focus on helping create a gratitude-centric culture. Motivosity customers are about the thanks, not just the stuff.
About Tacos Together
At its core, Tacos Together is a community. Tacos Together started out with just a simple idea: let's just feed cool people tacos and see what magic happens. And that's what it still revolves around today. This is true relationship building. We don't charge membership fees. We don't sell your data. We don't corner you into high-pressure sales. Just cool experiences, good tacos, and great people.
Media Contact
Company Name: Otter PR
Contact Person: Cassaundra Kalba
Email: Send Email
Phone: 727-342-0466
Address:320 1st Ave N Suite 110
City: St. Petersburg
State: FL
Country: United States
Website: OtterPR.com