Sloping roofs deliver a traditional touch to your home, giving it a grandeur look and feel. It provides an antique and royal touch to your home, and that is why the modern home plans prefer sloping roofs over flat tops. Triangle Homez now offers these sleek and elegant sloping roof designs to its customers. They provide perfect execution and 100% customer satisfaction by tailoring their services to address your concerns.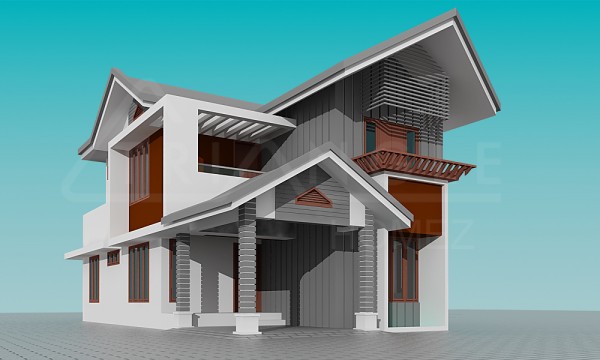 Nathancode, Trivandrum, Kerala – Jan 18, 2021 – A sloping roof is a perfect choice for those looking for a modern home design and wants to welcome a bit of tradition. Switching to this antique style will give a dream home a look and feel of a traditional design, and yet can add up colors and life into space by opting for the right decor. That is is why sloping roofs are an excellent choice for houses where there is no need to be too modern.
Triangle Homez has already designed and developed homes with sloping roofs for their clients in Kerala. When done right, sloping roofs can be aesthetically pleasing to the eyes. And when coupled with attractive roofings and matching decor, a sloping roof shines with luxury and class. The main advantage of a sloping roof is its longevity and reliability. Since the rainwater will easily flow out of the top, the damage done on the roof due to standing water is the least in this case. Triangle Homez is a top architects in Kerala, gather years of knowledge in the industry to design and develop a dream home with the right kind of roof and roofing materials. The mono-pitched roofs with a single plane, inverted gable roofs, hyperbolic paraboloid or saddle roofs, and sawtooth roofs are the different designs you can choose from to make the dream home look and feel better.
As sloping roofs come in different shapes, can choose the quirky butterfly or mono-pitched or the standard traditional style that is rather nostalgic based on the feel. The design choice is always customer-specific, and the property owner can pitch in their ideas as well. On the other hand, one of the critical features of Triangle Homez's sloping roof is the low maintenance cost. In effect, people can save money in the long run when opting for a sloping roof, making it very cost-effective.
Media Contact
Company Name: TRIANGLE HOMEZ
Contact Person: Media Relations
Email: Send Email
Phone: +91 81290 29999, +91 81290 39999
Address:Sen Madhavapuram Building, Second Floor, Opposite KGB Bank, Nanthancode
City: TRIVANDRUM
State: Kerala 695033
Country: India
Website: https://trianglehomez.com