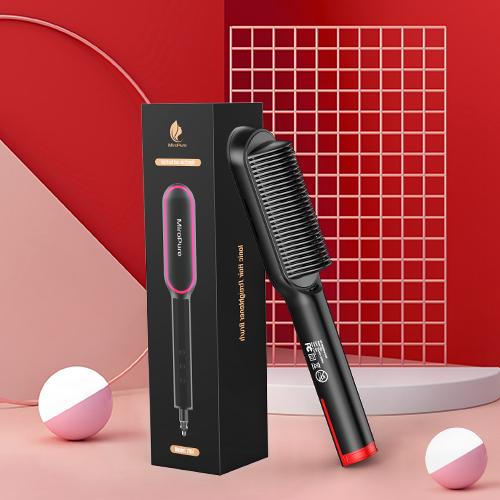 Straightening hair is a task that many women choose to endure – and it's not an easy process. The hair straightening activity is daunting, but luckily, with recent innovations, electronic hair straighteners now allow women to brush their hair while they straighten it. Even though hot combs have been around for years, the use of a Hair Straightening Brush is now the next step to making hair maintenance as stress-free as can be.
The Miropure Hair Straightener Brush is among the first of its kind. The tool is a ceramic iron straightener and a detangling brush, cutting the time it takes to get ready in half. The straightener boasts an incredible 16 different heat settings, which range between 300℉ and 450℉. The Miropure Hair Straightener Brush comes with various heat settings, making the product suitable for all hair types.
With its fancy temperature dial, comfortable grooves, and colored plates, this exudes an air of premium sophistication. The ergonomic design allows for comfortable handling, while the wide paddle makes for quicker styling on even the thickest of hair types.
It has a shiny finish to hair after use, thanks to the ceramic plates, and the variable temperature settings mean that users can tailor it to their hair type, with thicker and curlier hair types benefiting from the higher heats, making it one of the best straighteners for curly hair in brush form. It has a HIGH-DENSITY NANO COMB BRUSH that doesn't burn the scalp of users. It also has an auto power-off that will protect the safety of its users.
"The global personal grooming category is growing exponentially. At Miropure, our focus is to continuously bring innovative products in this space for both men & women. Each one of our products is created based on deep consumer insight and addresses specific need gaps," said the CEO of Miropure. "The Miropure Hair Straightener Brush is an innovation rooted in the insight that all women desire great looking hair every day & nearly everyone struggles for the time required to get that perfect look. I am confident that we have another heart-winning proposition in this unique product," he added.
The Miropure Hair Straightener Brush is priced way much lower than other products with the same or fewer features. For anyone looking for a hair straightener brush that will solve their daily and special hairstyle needs, then The Miropure Hair Straightener Brush will be the best choice. It is worth every penny!
Media Contact
Company Name: Miropure
Contact Person: Media Relations
Email: Send Email
Country: United States
Website: https://miropureshop.com