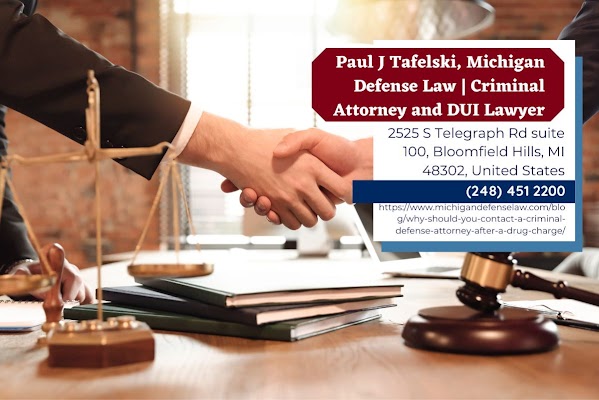 Michigan criminal defense attorney Paul Tafelski (https://www.michigandefenselaw.com/blog/top-5-reasons-why-you-should-not-take-a-plea-bargain-in-michigan/) releases a new article about the risks of accepting plea deals in Michigan. This informative article offers invaluable guidance for individuals confronting criminal charges.
The Michigan criminal defense attorney is widely recognized within the legal community as a seasoned legal professional who staunchly advocates for the rights and well-being of his clients. Drawing from his extensive experience and profound understanding of Michigan's criminal justice system, Tafelski sheds light on the potential perils associated with accepting plea bargains.
In the article, the Michigan criminal defense attorney underscores the crucial importance of careful consideration before agreeing to a plea bargain, stating, "Many individuals facing criminal charges in Michigan find themselves overwhelmed by the gravity of their situations. It is imperative to grasp the far-reaching consequences of accepting a plea bargain. By elucidating the key reasons against taking such a deal, my objective is to empower individuals with knowledge that can significantly impact their legal strategies and outcomes."
Tafelski proceeds to outline the compelling reasons why individuals should exercise caution when considering plea bargains in Michigan. Tafelski highlights how accepting a plea bargain may inadvertently imply guilt, potentially tarnishing the defendant's reputation and adversely affecting their future prospects.
The article also underscores the fact that accepting a plea bargain could result in waiving certain legal protections and rights that would otherwise be available during a trial.
Furthermore, the lawyer cautions against the enduring implications of accepting a plea bargain, such as the potential impact on employment opportunities, housing stability, and professional licenses. He also raises concerns regarding the accuracy of initial assessments made by prosecutors, urging defendants to conduct thorough evaluations of the prosecution's case strength before making any decisions.
Attorney Tafelski emphasizes the paramount importance of exploring all available options, including proceeding to trial, in order to ensure justice is served for those who may be innocent of the charges brought against them.
Lastly, Tafelski asserts, "Navigating the legal landscape can be a complex and daunting endeavor. It is vital to seek guidance from an experienced criminal defense attorney who can meticulously evaluate your case, safeguard your rights, and assist you in making informed decisions that align with your best interests."
Michigan Defense Law strongly encourages individuals to seek professional legal counsel to assess their unique circumstances and receive personalized guidance. With a dedicated team of seasoned attorneys, the firm is committed to delivering exceptional representation to clients throughout Michigan.
To access the full article authored by Michigan Criminal Defense Attorney Paul Tafelski, or for further information, please visit Michigan Defense Law's website.
About Michigan Defense Law:
Michigan Defense Law is a prominent law firm headquartered in Detroit, Michigan. Led by a team of experienced attorneys, the firm providing legal advice in criminal defense, DUI defense, drug crimes, white-collar crimes, and more. With a proven track record of success and an unwavering commitment to client advocacy, Michigan Defense Law provides comprehensive legal services tailored to the unique needs of each individual client.
Embeds:
Youtube Video: https://www.youtube.com/watch?v=1v_dq8qrts0
GMB: https://www.google.com/maps?cid=7441820969606749572
Email and website
Email: paul@michigandefenselaw.com
Website: https://www.michigandefenselaw.com/
Media Contact
Company Name: Michigan Defense Law
Contact Person: Paul J. Tafelski
Email: Send Email
Phone: (248) 451-2200
Address:2525 S Telegraph Rd suite 100
City: Bloomfield Hills
State: Michigan 48302
Country: United States
Website: https://www.michigandefenselaw.com/