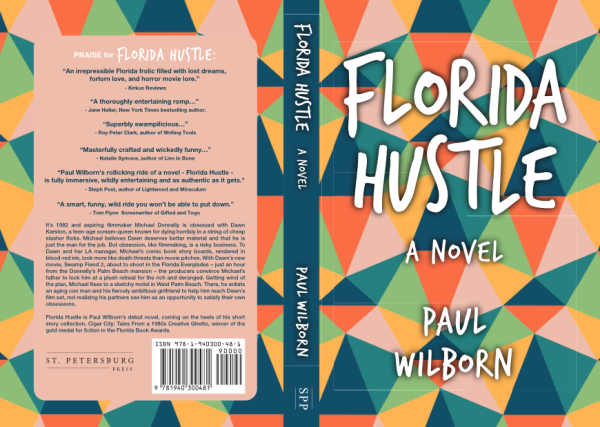 Florida Hustle, a comic coming-of-age novel by author Paul Wilborn, takes readers on a wild ride through 1980's Florida. In a coveted "starred" review, Kirkus called Florida Hustle: "An irrepressible Florida frolic filled with lost dreams, forlorn love, and horror movie lore."
Florida Hustle is available in print, as an e-reader, and starting this month, as an audio book available on all major platforms.
Captivated by a B-movie scream queen, Michael Donnelly breaks away from the confines of his family's opulent mansion and embarks on a journey to the Everglades, where Dawn Karston is filming Swamp Fiend 2. Teaming up with an aging con man and his ambitious girlfriend, Michael finds himself lost in a mire of competing cons and hustles.
Paul Wilborn's engaging writing style, quirky characters, sharp descriptions, and funny one-liners make this one of the best examples of a modern "Florida novel." Critics have compared Wilborn's writing with the books of Carl Hiassen and Elmore Leonard. Kirkus Reviews celebrated Florida Hustle as "One of the 100 Best Indie Books of 2022."
Florida Hustle is also a compelling piece of historical fiction, transporting readers to a time when Florida was morphing from a land of beaches and roadside attractions into a mega-state. It's also a snapshot of Hollywood B-movie industry in the early 1980s, when the success of the horror films Halloween and Friday the 13th spawned hundreds of copycats, many made on the cheap in Florida. While not a horror novel, Florida Hustle immerses readers in the world of horror filmmaking.
Paul Wilborn's 2019 story collection, Cigar City, won the fiction gold medal in the Florida Book Awards. Critics have hailed Florida Hustle as "masterfully crafted and wickedly funny;" "a rollicking ride of a novel;" and "a romp with heart."
Florida Hustle is based in part on Wilborn's 15-year tenure as a journalist assigned to roam Florida. His writing earned him top awards from the American Society of Newspaper Editors and the Florida Society of Newspaper Editors, including the Paul Hansel Award as "Florida's Best Journalist."
Fans of comic fiction, dark humor and anyone seeking a fast-paced literary escape will find all that and more in Florida Hustle. Head to the Amazon to order your book now.
Media Contact
Company Name: Amazon AudioBook Publishing –
Contact Person: Paul Wilborn
Email: Send Email
Phone: 813-951-1451
Country: United States
Website: https://wilbornwrites.com/