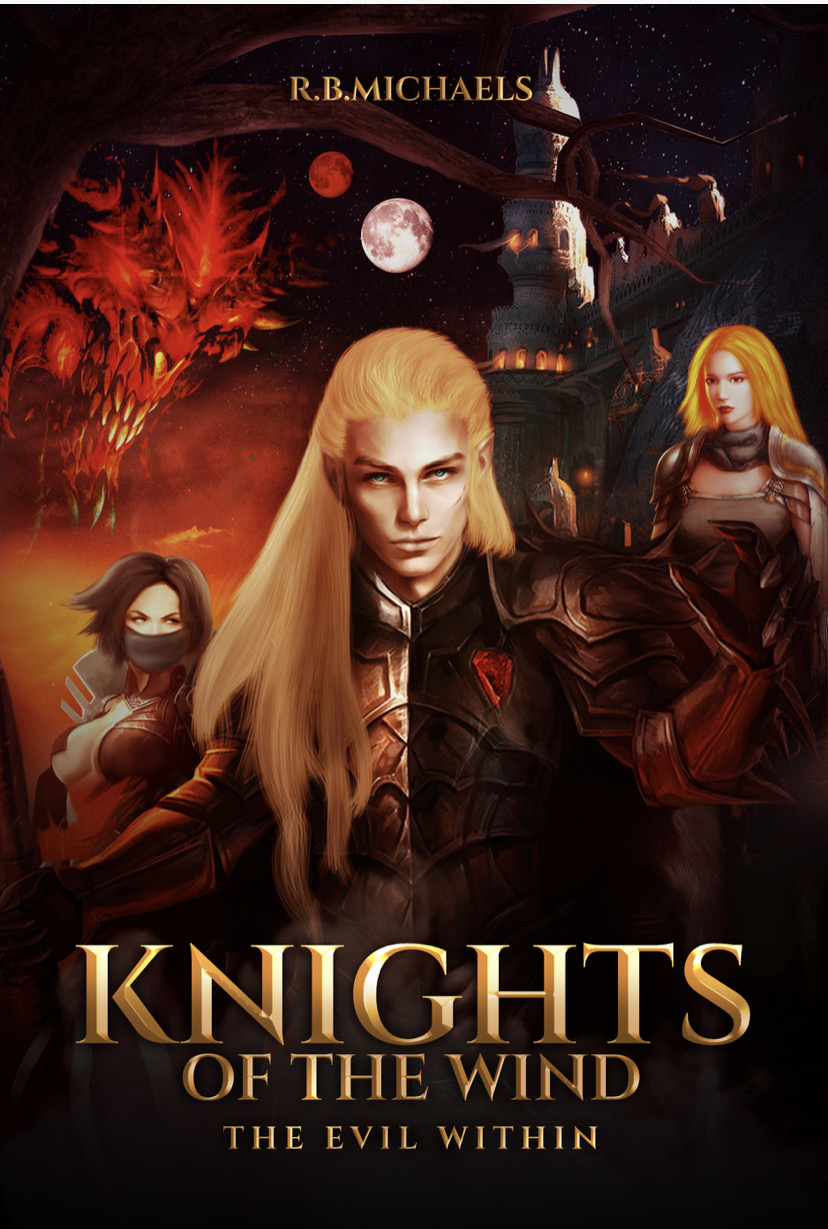 RB Michaels has done it again, creating another masterpiece with book two in the trilogy series, The Evil Within where his thoughts and imagination explode into reality while he shares with the world this fantastic story
In the trilogy Knights of the Wind, prolific author and writer RB Michaels creates a vivid world of magic and intrigue where young love, courage, and the strength of a Knight are unmatched in the classic realm of good versus evil. The author's imaginative scenes come to life as he takes readers on a journey through a world in danger, where the souls of existence are in peril.
Today, RB Michaels is thrilled to announce that the second book in the engaging Knights of the Wind trilogy series titled "The Evil Within" is now available for purchase. In the second part of the series, Jarrod is separated by a sudden energy release that pulls him into a hidden realm. There he discovers an ancient beast who becomes an ally and helps him hold back the evil that tries to take him, but the more powerful Jarrod becomes, the more the dark shadows move in on him and his small group. Not only must Jarrod come to terms with who is this dark creature, but he also must save the King of Thane city and find a way to keep his friends and his new love out of danger.
"The Evil Within" brings epic scenes to life using inspirational forces equal to real-world problems, including friendship, hate, evil, and how courage and love can conquer all. The fantasy continues with Jarrod's quest to destroy the evil coursing worldwide and is now after his closest friends and family. However, when Jarrod must decide between his family and friends' safety and his quest for the magic power to destroy the one he discovers is causing the darkness, the problem is introduced. Hidden circumstances place Jarrod right in the middle of a war for the world's freedom. No one will be spared, and only Jarrod can decide the fate of Yshanall.
Written for readers between ages 16 and above, "The Evil Within" and other books in the "Knights of the Wind" trilogy are premium sources of entertaining content. To get a copy of RB Michaels' book, please visit www.rbmichaels.com. In addition, the website features video trailers on each book with a sneak peek at chapters to read along with reviews.
About RB Michaels
R.B. Michaels was born in Champaign, Illinois, and grew up in a small town in Florida. He spent his early years wowing English and Music teachers with his creativity and imagination. RB Michaels spent several years in the military and subsequently was introduced to game adventures like Dungeons and Dragons and other book series. He developed his love for epic fantasy novels from those interactions and was the inspiration for his Knights of the Wind series.
RB Michaels joined a worldwide engineering firm in the Pulp and Paper Industry. Even though he enjoyed his work with the company, his literary prowess developed, and he started his quest to fulfill his dream to become an epic fantasy author.
RB Michaels enjoys the beach life and currently lives in the low country of Eastern South Carolina. He enjoys deep sea fishing and relaxing with friends and family while drawing inspiration from the ocean and meditating under the stars at night with a nice glass of wine.
Media Contact
Company Name: Michael R. Barbour (R.B. Michaels)
Contact Person: Media Relations
Email: Send Email
Country: United States
Website: http://www.rbmichaels.com/