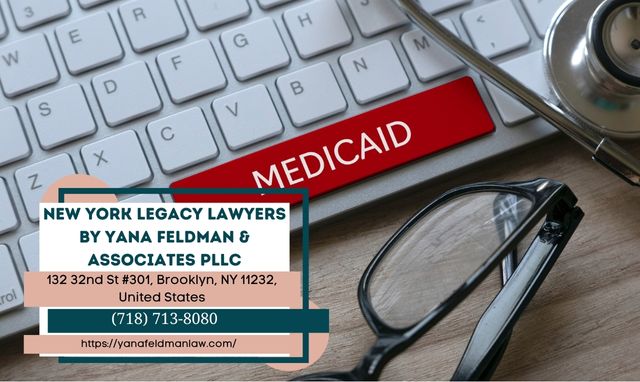 Yana Feldman, a notable Medicaid planning lawyer, has recently published an in-depth article on Medicaid planning in New York. As an experienced attorney well experienced in Medicaid, Feldman's article is designed to help individuals navigate the complexities of Medicaid planning, offering valuable insights and advice.
In the first section of the article, the Medicaid planning lawyer explains the necessity of proactive measures to secure government benefits, particularly for long-term care. Feldman, along with her team of dedicated attorneys, emphasizes the potential relief Medicaid planning can bring to individuals and their loved ones, protecting them from financial hardship.
"Planning for Medicaid allows individuals to alleviate some of the financial burdens long-term care can bring," says Feldman, a well-respected Medicaid planning lawyer based in Brooklyn. "With a well-executed plan in place, loved ones can be safeguarded from becoming financially vulnerable."
Feldman's article further delves into the nuances of Medicaid in New York, highlighting that Medicaid can cover home care up to 24 hours a day, not just nursing home care. It touches upon the differences between Community Medicaid, which covers home care, and Institutional Medicaid, which pays for nursing home care. As a Medicaid planning lawyer, Feldman brings to light the often overlooked five-year lookback period for Institutional Medicaid.
In the latter half of the article, Feldman discusses the strict requirements for Medicaid applicants. She underscores the importance of proactive planning to protect an applicant's Medicaid eligibility without jeopardizing ownership of their assets. Feldman, along with her team of lawyers, also alerts readers that the look-back period, currently only for nursing home care, will extend to new applications for home care from April 2024.
"The look-back period is a critical element in Medicaid planning. It requires the state to examine the last five years of an applicant's financials for any irregularities," Feldman states. "However, with proactive planning and sound asset management, there are methods to protect your eligibility and assets."
Feldman, as an experienced attorney in asset management, imparts knowledge on Medicaid eligibility requirements in New York, and how a Medicaid planning lawyer can assist in the process, from safeguarding the legacy for loved ones to providing quality estate planning services and legal advice.
Reflecting on the importance of early planning, Feldman asserts, "Planning for long-term care should start before you need it. By planning in advance, you may have more options for protecting your assets and avoiding spending down your assets."
The comprehensive guide is a testament to Yana Feldman's dedication to empowering individuals with the knowledge they need to navigate the complex landscape of Medicaid planning.
For a richer understanding of the complexities of Medicaid planning, those interested are encouraged to read Feldman's full article. Her team of lawyers, well-versed in Medicaid laws and asset management, are always ready to assist.
About New York Legacy Lawyers:
New York Legacy Lawyers is a Brooklyn-based law firm led by Yana Feldman, a distinguished Medicaid planning lawyer. The team of estate planning lawyers at New York Legacy Lawyers is committed to assisting New York residents in planning for long-term care while also protecting their assets through meticulous asset management. Their approach is comprehensive, taking into account all aspects of a client's financial situation to provide tailored estate planning strategies.
Embeds:
Youtube Video: https://www.youtube.com/watch?v=Ni1lSpIV0ok
GMB: https://www.google.com/maps?cid=16408561942605909937
Email and website
Email: yana@yanafeldmanlaw.com
Website: https://yanafeldmanlaw.com/
Media Contact
Company Name: New York Legacy Lawyers by Yana Feldman & Associates PLLC
Contact Person: Yana Feldman
Email: Send Email
Phone: (718) 713-8080
Address:132 32nd St.
City: Brooklyn
State: New York 11232
Country: United States
Website: https://yanafeldmanlaw.com/