The time has come: MEDICA 2022 opens its doors!
Whether start-ups, current research results from sports medicine or exciting contributions from the laboratories of this world – you will find all of this bundled at the trade fair center in Düsseldorf from November 14 to 17.
Exhibits range:
1. Medical electronic instruments, ultrasonic instruments, x-ray equipment, medical optical instruments, clinical testing and analysis instruments, dental equipment and materials, hemodialysis equipment, anesthesia and respiratory equipment, etc.
2. Disposable medical supplies, dressings and sanitary materials, various surgical instruments, etc.
3. Hospital wards, operating rooms, emergency room equipment, hospital office equipment, laboratory equipment, etc.
4. Health care equipment, home health supplies, physical therapy, plastic surgery technology, etc.
5. Information and communication technology, medical services and publications, etc.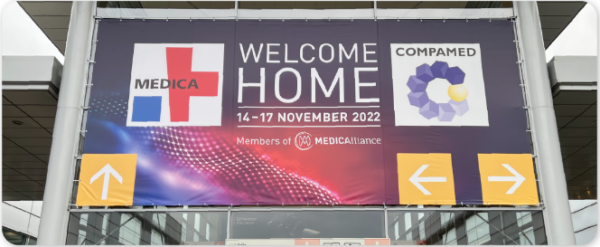 MEDICA – the global medical equipment market trendsetter
MEDICA is a world-renowned comprehensive medical exhibition, recognized as the world's leading hospital and medical equipment exhibition, with its irreplaceable scale and influence ranked first in the world's medical trade shows. MEDICA is held annually in Düsseldorf, Germany, and showcases a wide range of products and services from outpatient care to inpatient care.
MEDICA and COMPAMED 2021 concluded successfully in Düsseldorf, where the world's leading exhibition and communication platform for the medical technology industry once again demonstrated its international standing by presenting a wide range of medical innovations and a number of side events covering a wide range of topics.
The MEDICA and COMPAMED websites added a range of online services in conjunction with the show's live events, enabling exhibitors and visitors to discuss innovative medical products and technologies both online and offline, with live access to all expert forums; visitors could also connect with exhibitors via a matching tool.
46,000 visitors from 150 countries (73% international share) seized the opportunity to meet face-to-face with 3,033 MEDICA and 490 COMPAMED exhibitors on the show floor. Breaking through the epidemic, more than 200 Chinese companies participated in MEDICA with an exhibition area of nearly 5,000 square meters. Chinese companies presented a stunning array of innovative products, demonstrating to the world the cutting-edge technology and strength of Chinese medical companies.
Germany, the leader of the European pharmaceutical market, has a perfect social security system and a high standard of living for its citizens.
Huge Market Potential
Germany is a big producer and importer of medical devices, especially electronic medical devices, with two-thirds of the domestic demand relying on imports. The value of Germany's medical device industry is about 33 billion euros. With the restructuring of the German health insurance system, there will be more new demands for medical technology, products and services from both the healthcare system and the general public. In the long run, Germany's strong medical product manufacturing base, changing demographics and industrial structure, and increasing awareness of health care are all factors that determine the potential of the German medical device market.
Strong government support
The German health care system accounts for 11.7% of total national production and the medical technology industry has been an important cornerstone of Germany's stable economic development.
The exhibition has become an information platform for medical-related enterprises around the world to grasp new, comprehensive and authoritative information about the world medical equipment market, and at the same time, you can have face-to-face communication with top medical equipment counterparts all over the world at the venue, which plays a bridge role for you to widely understand the development trend of medical technology and introduce advanced technology and equipment from abroad. Main exhibit types: electronic medicine/medical technology, laboratory equipment, diagnostics, physical therapy/orthopedic technology, commodities and consumer products, information and communication technology, medical services and publications.
Original Source: https://www.medatro.com/news/medica-dusseldorf-2022-where-healthcare-is-going/
Media Contact
Company Name: Beijing MediFocus Medical Co., Ltd.
Email: Send Email
Phone: +86-10-61796973
Address:Room 101, building No. 3, No. 11 Tengren Road, Niulanshan Town
City: SHUNYI
State: Beijing 101300
Country: China
Website: https://www.medatro.com/