Bangkok – February 13, 2020 – Thai cuisine has its admirers all over the world, making it one of the renowned food cultures that many would want to learn. Thai Chef School, the Bangkok-based private culinary training school licensed by the Thai Ministry of Education, welcomes international students who wish to take their first steps learning the art of Thai cuisine from local chef experts. All courses are administered in English, and there are internship opportunities available as well.
Thai culture is among the most welcoming in the world. At the Thai Chef School, students of cooking, baking and pastry making couldn't have asked for a better deal. They can come and stay in exotic Thailand for 6-12 months, study and master Asian as well as Western cuisine or bakery and pastry making, and then go for an internship with a 5-star hotel.
The Pan-Asian Culinary Training Program is a 6-week professional culinary training program. Students coming to Thailand can embark on the adventure of their lives, learning the cultural cuisines of Thailand, China, Vietnam, Korea, and Japan. The course is an intensive, 270-hours program, with classed conducted in English. Educational visas are available, and internships with 5-star hotels are part of the program.
The 6-week Professional Thai Culinary Training course teaches 75+ Thai dishes with authentic flavors, giving students mastery of Thai cooking and professional presentation. Conducted in English, the course is recommended for those who wish to master the Thai art of cooking. Students also get to be interns at 5-star hotels to apply their skills.
For those who want to learn pasty and baking the Thai way, the School offers 1-5 weeks, full-time professional training program of 200 hours duration. Also available is the Western Culinary Training Course, a 6-week course that includes French, American and Spanish cuisines.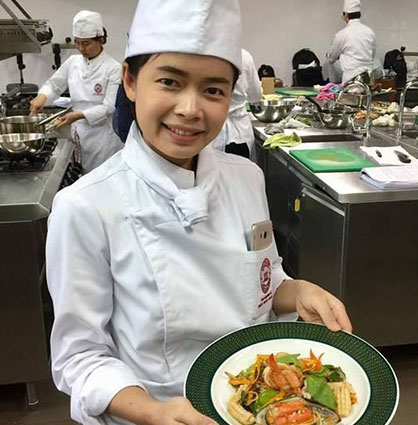 All teachers at the Thai Chef School are highly trained and speak English. They carry rich industry experience in Thai and Western restaurants, both local and international. The courses do not require any prior knowledge or expertise in cooking. After course completion, a Diploma and Certificate from the Ministry of Education are provided.

About
Thai Chef School is a licensed private culinary training school by the Thai Ministry of Education. As such, our courses are accredited and our chef instructors are registered with and approved by the Ministry of Education. We are also members of the American Culinary Federation (ACF). Our goal is to help food and beverage workers in pursuing their culinary dreams by offering accredited culinary training, internships, and job placement assistance. The school campus is in Bangkok, the cultural and culinary capital of Thailand.
For more information, please visit: https://thaichefschool.com/
Media Contact
Company Name: Thai Chef School
Contact Person: Ron
Email: Send Email
Phone: (+66) 807-706-74
Address:The Phyll Community Center 1770 Sukhumvit Rd., Soi 54, Bang Chak
City: Phra Khanong
State: Bangkok, 10260
Country: Thailand
Website: https://thaichefschool.com/