Marcus Gill, author, and pastor releases the book "The Glory to Prosper," which discusses how he uses his ministry to help others to prosper.
Myrtle Beach, SC, USA – May 21, 2021 – Marcus Gill yielded his will to God for his life. He has not only understood the will of God, but it has become the call on his life to repair the breach, restore the old waste places, and lead the way to prosperity. According to Gill, "My approach to ministry focuses on bridging the gap of cultures, ages, and society by offering a sound that is relative to every listener." Gill, an author of ten previous books just released his latest book, "The Glory to Prosper," and it is available on Amazon.
ABOUT THE BOOK
The Glory to Prosper: Understanding Your Right to Receive and Live with Limitless Favor
ISBN: 979-8502136167
Prosperity is not just a part of your lifestyle, but it is your lifestyle! The Bible says, in the book of Psalms, "I was young, but now I'm old, yet I've never seen the righteous forsaken, nor his seed begging for bread." In this book, Marcus helps you understand that God will never allow his children to miss the anointing for prosperity matter what's happening in the world! Gill says, "This glorious gift of prosperity is about us being available for God to use us to demonstrate his ways."
Gill says, "I wrote this book to help many, especially Christians, to have a mindset change as it concerns prosperity. I've learned that there are so many who desire prosperity but are against the message of prosperity. Anything we see as dangerous we stay away from but anything we see as glorious we run toward. I want people to know that prosperity is safe. Furthermore, I want the reader to know that God wants them to prosper and have good success in every area of their life. If we learn to see prosperity as a gift of God's glory, we will receive it. I want to help people learn how to receive it the right way."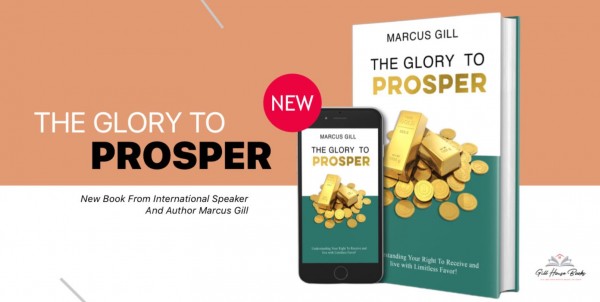 Reviews
"Thank you, Marcus, for your unending commitment to reveal God's true nature through teaching on His love for all!" — Jose Vasquez, CTBNY
"Marcus Gill is a dynamic preacher, teacher, and leader. His ability to make the word relevant sets him apart!" — Bishop Charles Mellette, CPM
"Marcus is an outstanding communicator of the word, and he has a sound that can reach any listener." — Frank Santora, FC
About the Author
Marcus attended the Winston-Salem State University, where he perfected his knowledge in the music business. He has also successfully completed certified coursework at Harvard University in the area of Religious Literacy. He is in a season of his life where he is the author of 10 books entitled Single God Life, 10 Ways to Stay Free, Happy Single You, Psalm Saturday, Under Construction and OKAY, FAVOR, Everybody Wants to Win, 10 Ways to Protect Your Blessing, Never Conquered In Crisis, I See More Love and his latest release The Glory to Prosper. He's a Charisma Magazine published author, he's been on numerous radio shows, and been interviewed on, and has hosted his own broadcasts on TBN (Trinity Broadcasting Network), CBN (Christian Broadcasting Network), TCT (Total Christian Television) Sirius XM Radio and the Word Network.
Marcus is a world-renowned, world-traveling motivational speaker, preacher, and social media sage who has over two million followers on Facebook and is reaching MILLIONS of people each week. He was even introduced to share the gospel on the main stage at the Essence Festival in New Orleans, USA! He's the founder of Marcus Gill International, based in Myrtle Beach, South Carolina. MGI hosts multiple conferences a year worldwide donates to more than 20 charities a year and specializes in sharing inspiration through various media outlets. Marcus is also the founder and CEO of Gill House Books, a book publishing company specializing in publishing books for Gill family authors and friends. His most joyful philanthropic effort has been the Gill – Butler Basketball Classic, an all-star basketball game featuring 39 of the most talented middle school basketball students in Horry County (Myrtle Beach Area). He is happily married to his best friend, Dominique. She's a school teacher currently completing her Doctorate in education administration, the author of the book Her Purpose Matters. She travels with him and passionately leads praise and worship through song. They have two daughters named Madison and Maci.
Contact the author at victory@marcusgill.tv or Email: victory@marcusgill.tv for speaking engagements and book signings.
Media Contact
Company Name: Gill House Books
Contact Person: Marcus Gill
Email: Send Email
Phone: 5044677181
Country: United States
Website: marcusgill.tv