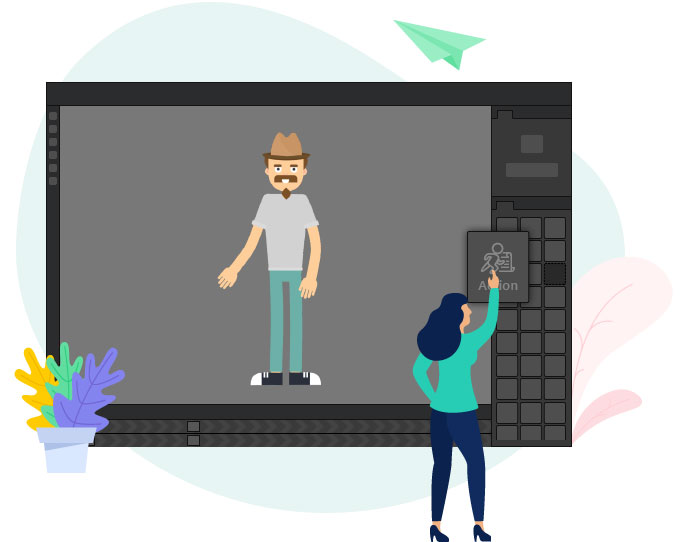 Mango Animate Character Animation Maker (Mango Animate CM) offers a wide selection of professionally designed characters and ready-to-use motion templates, making it the most anticipated animated character generator of the year.
With its animated character generator, Mango Animate allows users to create realistic animated characters for training purposes.
Mango Animate's animated character generator is an excellent tool for helping users develop simulations for virtually any industry. By allowing creators the option to upload their own image as a PNG or PSD file or start with a pre-made character template, Mango Animate CM offers complete flexibility with customization. In just a few simple steps, anyone can bring an animated character to life and it's ready to use in various storytelling situations.
Simulations are a useful tool in training exercises. When it is either too dangerous or not realistic for a human to perform an action, a character animated by Mango Animate CM can take its place. The animated character generator provides plenty of pre-designed characters that can be tailored to fit any business or field. Since these characters are already rigged, they can easily be incorporated into a project.
For greater personalization, users can edit their character's hair color, hairstyle, eye color, skin color, accessories, clothing, and more. This way, in just a few minutes users can develop a doctor, police officer, pilot, or any other professional to suit the specifics of their project. The animated character generator also allows for voice and audio importing, so characters can better reflect a human in a simulation.
Mango Animate CM allows users to create realistic simulations and training exercises by implementing an intuitive Ik (Inverse Kinematic) feature to pinpoint character posing and movement. With this advanced technology at play, characters will appear more natural and logical within the animation. Mango Animate CM recognizes the importance of accuracy and precision when delivering a meaningful message through animations.
When developing a simulation for teaching students or trainees, multiple cartoon characters are often involved. With this animated character generator, designing more than one character at a time is simple. Users can create various characters at once, allowing them to save time and sync character movements with one another. Once a character is completed and ready to train an audience, it can quickly be saved as an MP4, MOV, PNG, or animated GIF.
"When real-life training just isn't practical, people often turn to animated simulations," says Lynn Tang, customer service head at Mango Animate. "With our animated character generator, anyone can create extremely realistic animated characters that are perfect for demonstrating an exercise or telling a story."
For more information, please visit Mango Animate.
About Mango Animate
Since 2003, Mango Animate has been creating animation software that has changed the way people share stories online. The company consists of highly creative individuals who strive to provide the user with the best, most effective animation experience on the web.
Media Contact
Company Name: Mango Animate Software Co., Ltd.
Contact Person: Paul
Email: Send Email
Phone: +86 020-61972665
Address:Room 1003, 10/F, Tower 1, Lippo Centre, 89 Queensway, Admiralty
City: Hong Kong
Country: HongKong
Website: https://mangoanimate.com/