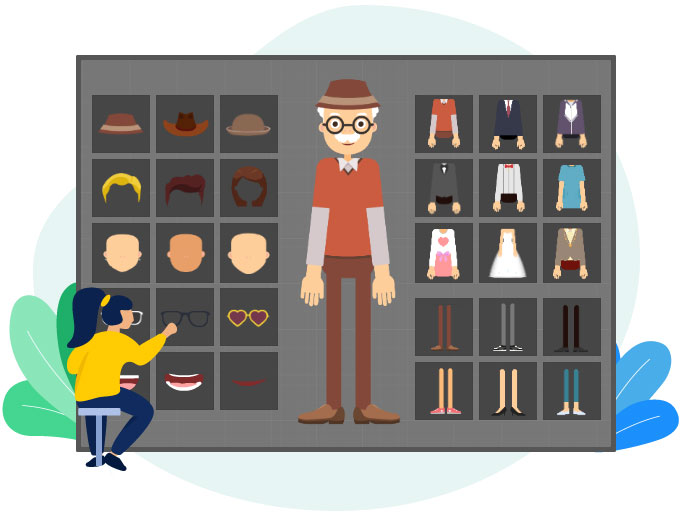 To make cartoon characters look unique, users can customize their appearance with a large library of animated items that Mango Animate CM provides.
Mango Animate CM can build a cartoon character with lively facial expressions and movements from a PNG/PSD image, aiming to be the best cartoon person maker of the year.
Great cartoons are not just about the storyline. They need high-quality characters too. Without the right characters, the action will fall flat. Appropriate characters can create a stronger bond with the audience. Cartoon creators no longer have to struggle to find the perfect characters to match their scripts. The Mango Animate Character Animation Maker (Mango Animate CM) is the ideal cartoon person maker. It's packed with features and options that will ensure all characters are the perfect fit for their cartoon.
"Everyone loves cartoons," says Ivan Leung, CTO of Mango Animate. "We help create the characters they love."
For a novice who's not sure where to begin, or someone just looking to save some time, there is a large collection of cartoon character templates. They're expertly designed and fully rigged. Users just need to add their personal touches and animate the characters. Then they're ready to be used in any cartoon. This cartoon person maker makes the process very easy.
The cartoon person maker also caters to persons with a creative side. Users can create their cartoon characters from scratch. All they need to do is import images into the cartoon person maker, add bones, and animate them. PNG and PSD file types are supported. With the easy-to-use bone tool and bone templates, users can rig their characters in no time. The finished character will look like it took a lot of time and effort to create.
Cartoon creators will appreciate the wide array of looks they can apply to their characters with the cartoon person maker. They can pick different hairstyles and colors, facial features, and skin color. Various outfits and accessories are also available. And users can upload custom items to add to their characters. Personalizing the characters is simple. The cartoon person maker features a convenient timeline. Users just drag and drop various elements onto the timeline and edit them as desired.
Movement is an important aspect of a cartoon character. This cartoon person maker offers an extensive library of motions and facial expressions. Plus, it lets users add audio and video files and then animates the characters' mouths to look like they are saying the lines. The Inverse Kinematic (IK) feature makes all movements more streamlined for a natural look.
To learn more about the cartoon person maker, please visit Mango Animate.
About Mango Animate
Mango Animate provides top-notch animation software. Their offerings include animated video makers and an animated character creator.
Media Contact
Company Name: Mango Animate Software Co., Ltd.
Contact Person: Paul
Email: Send Email
Phone: +86 020-61972665
Address:Room 1003, 10/F, Tower 1, Lippo Centre, 89 Queensway, Admiralty
City: Hong Kong
Country: HongKong
Website: https://mangoanimate.com/