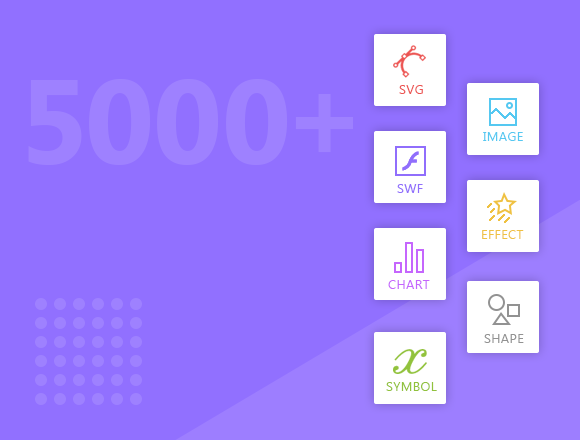 Mango Animate Animation Maker (Mango Animate AM) provides users with over 5000 media assets, adding a finishing touch to their video projects.
Mango Animate's vector animation software can take business video marketing to the next level by delivering exciting content that audiences will want to engage with.
Businesses can effortlessly animate their brand with Mango Animate's vector animation software. Mango Animate AM has thousands of free media assets, including hundreds of Scalable Vector Graphics (SVGs) for users to apply to their projects, which accommodates those beginners with no prior animation experience.
SVGs allow versatility with images or animations, as it's compatible with any platform, and changing the size will not affect the resolution. Although it has several practical purposes, Mango Animate AM provides its vector animation software to help businesses enhance their brand and build a more substantial customer base. With graphics falling under many categories, this software can serve a variety of industries.
"When it comes to marketing your business, it's important to show your audience what your product or service is about rather than telling them," says Selena Lee, the chief designer at Mango Animate. "Our vector animation software will make descriptions more lively and irresistible."
An animated video created with this vector animation software will stand out amongst its competitors. Social media is cluttered with advertisements, and consumers only spare a few seconds of their attention. Mango Animate AM will yield a professional-quality, eye-catching animation that will make viewers stop to learn more. Plus, creators can even add their own voiceovers to enhance the emotional impact of the video.
Mango Animate AM gives creators the tools they need to develop a successful marketing campaign. Getting started is simple, as the software includes dozens of beautifully designed pre-made templates to choose between. From there, the vector animation software allows complete creative customization with features like the multi-track timeline, putting everything from camera angles, background, and foreground entirely within the user's control.
Built to be flexible, this vector animation software allows users to publish their finished content in six different video formats or as a GIF. It can even be uploaded directly to social media or burned to a DVD for easy distribution. All of these sought-after animation features are quickly accessible within one straightforward interface, making Mango Animate AM the leading choice in vector animation software.
To learn more about the vector animation software, please visit Mango Animate.
About Mango Animate
Mango Animate has been developing software designed for business success since 2003. With multiple animation software boasting advanced features, Mango Animate helps creators conceive professional-level animations in just minutes.
Media Contact
Company Name: Mango Animate Software Co., Ltd.
Contact Person: Paul
Email: Send Email
Phone: +86 020-61972665
Address:Room 1003, 10/F, Tower 1, Lippo Centre, 89 Queensway, Admiralty
City: Hong Kong
Country: HongKong
Website: https://mangoanimate.com/