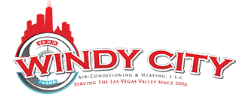 Nobody can predict when an air conditioner or a refrigeration system will stop working. It is worse when it goes off when it is the most needed system. This is the time when the owner needs a prompt, reliable, and an affordable service provider. One such service provider for the people of Arizona and Nevada seems to be Windy City Air Conditioning and Heating.
Las Vegas, Nevada, The United States – Apr 6, 2020 – HVAC services can be the need of an hour when the heating and cooling systems tend to stop working suddenly. They should be available from a trained and licensed service provider that is ideally available to answer 24/7. Windy City Air Conditioning and Heating is one such service provider.
With the mission of always ready to help, the service provider's call center is active 24/7 to answer one's call and cater to the needs promptly. It offers a myriad of AC, heating, and commercial HVAC repair services along with the sales and installation of air filters.
All one has to do is call and schedule a service request. The rest is the responsibility of Windy City. To ensure peace of mind, one gets an e-mail containing the patented technician profile who will be coming to your place to resolve the issue or making the systems better. The e-mail has the credentials, photo, and the name of the technician.
Another commendable aspect is its flat rate pricing through which the customers are charged industry-standard rates. This is regardless of how quickly or slowly the work is done. No job is performed without the customer's consent.
According to a spokesperson, "We aim to ensure an environment that is based on the norm of going beyond the expected scale for satisfying the moral requirements. Thus, you can count on us for a quick response to any AC, heating, and commercial refrigeration needs. At the most reasonable price, you can expect all care and comfort without leaving your home."
About Windy City Air Conditioning and Heating
Established in 2006, Windy City Air Conditioning and Heating provides the sales, installations, and repair services for AC and refrigerators. It is also dedicated to offer heating services in Nevada and Arizona. It specializes in residential and commercial zones, especially the newly constructed ones. For more information, kindly visit https://windycityair.net/.
For Media Inquiry
Owner: Vern Rettig
E-mail: info@windycityair.net
Phone: 702-932-7284
Address: 6675 Schuster St.
City: Las Vegas
State: Nevada
Country: United States
Code: 89118
Map: https://www.google.com/maps/place/Windy+City+Air+Conditioning+%26+Heating/@36.068422,-115.1955977,17z/data=!3m1!4b1!4m5!3m4!1s0x80c8c608bd932b1d:0xbf204d1c066ea7a8!8m2!3d36.06842
LinkedIn: https://www.linkedin.com/company/windy-city-air-conditioning-&-heating-llc-/
Facebook: https://www.facebook.com/WindyCityAir/
Media Contact
Company Name: Windy Cityair
Contact Person: Vern Rettig
Email: Send Email
Phone: 702-932-7284
Address:6675 Schuster St.
City: Las Vegas
State: Nevada
Country: United States
Website: https://windycityair.net/