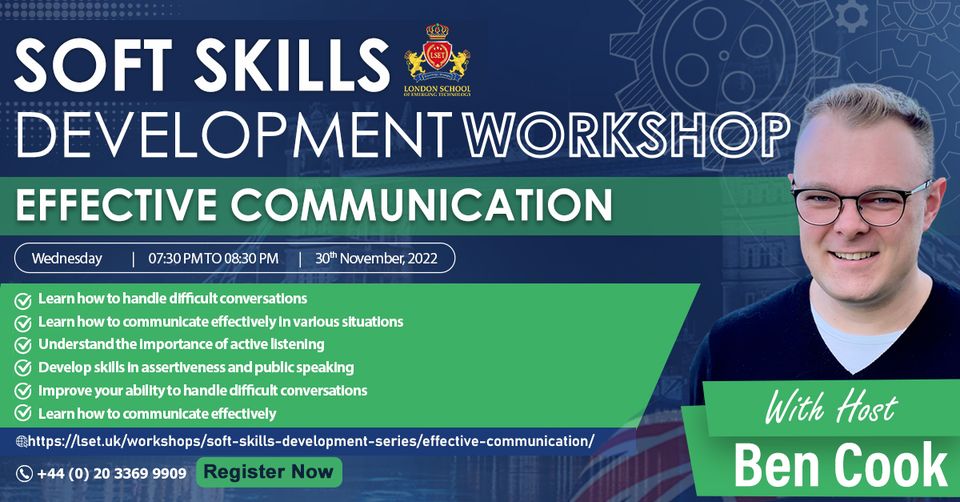 LSET is organising a soft-skill workshop on communication skills on November 30th, 2022 to prepare individuals for future workplaces
LSET is organising a soft-skill workshop on communication skills on November 30th, 2022 to prepare individuals for future workplaces
The UK-based educational institution, LSET is organising a soft skills workshop on effective communication on November 30th, 2022. This workshop has the agenda to help participants to improve their communication skills and become the perfect fit in the dynamic environment of modern workplaces and career growth. The workshop session would introduce them to the fundamentals of effective communication in the workplace which helps them to develop better relationships for improved coordination and negotiations.
Effective communication skills in the workplace are very important for employees to perform well, contribute to a positive work environment, and eliminate inefficiencies. Proper communication skills are one of the most overlooked aspects of any profession, and every relationship can benefit from this effective skill.
By building these skills, participants will be able to accurately improve and maintain human relationships. Miscommunication can become a very serious problem in the workplace. In fact, it can result in inefficiency and delays in project delivery time. Moreover, in the age of remote-friendly work environment, having top-notch communication skills have become very important apart from hard skills for a profession. For this reason, LSET is aiming to help future professionals to embrace this shift in communication culture.
This workshop will be very useful for students and professionals who aspire to improve their communication abilities and mitigate conflicts more efficiently. The participants joining this soft skill workshop can expect to learn empathetic listening and perspective-talking skills. They will be able to develop proper communicative messages for more effective expressions. These skills are very important to handle difficult relationships and problem-oriented personalities. Instead of reacting just emotionally, they will be able to respond more rationally. It will also help them to understand how individuals are feeling and what they might need.
LSET will also enable the participations to have direct conversations with the speaker to resolve their doubts and ask questions. With greater communication skills these individuals are expected to build deeper relationships and connections in their personal and professional lives.
Read More: https://lset.uk/event/effective-communication/
About the London School of Emerging Technology (LSET)
The London School of Emerging Technology (LSET) provides the perfect combination of traditional teaching methods and a diverse range of metamorphosed skill training. These techniques help LSET infuse core corporate values such as entrepreneurship, liberal thinking, and a rational mindset. LSET encourage students to build much-needed technical and business skill sets and discover innovative solutions to solve real-life industry problems. The compact student groups, flexible learning hours, and a significant emphasis on extracurricular activities make the overall learning experience more engaging and exciting. This could be the best opportunity for anyone who wants to become ready for the fast-paced competitive world. LSET courses are designed by industry experts with a focus on increasing students' employability factor. Students get to learn in a practical environment with the help of the latest technologies.
Media Contact
Company Name: London School of Emerging Technology
Contact Person: Jim Cohn
Email: Send Email
Phone: 02033699909
Address:1 Cornhill
City: London
Country: United Kingdom
Website: www.lset.uk