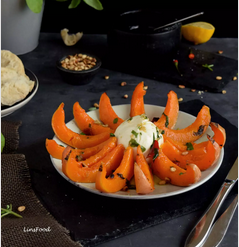 The start of a new year is always a great time to come up with resolutions that can change the coming year for the better. Eating healthier is something that most people set out with, but due to a lack of proper healthy recipes 2020, their motivation falters.
To gear up their readers with an arsenal of healthy recipes, LinsFood, an online blog recently released their personal favorite list of New Year recipes 2020. Focusing on low fat, low carb and low calorie and vegan choices, LinsFood showed their readers that health and taste aren't mutually exclusive.
As has always been the case, the assortment of available recipes is from a myriad of cultures. From Chinese to Middle Eastern to Italian, their blog provides a little something for everyone. Readers can easily browse through the many options, reading up on their favorites.
Many have appreciated Linsfood's effort to encourage a healthier lifestyle. Having a lack of healthy recipes is one of the biggest obstacles in the way of people wanting to shift to a low calorie diet. But, with diverse collection that Linsfood offers, readers can cook to the fullest.
Linsfood stated that they hope their readers will try these new recipes out. Many of the dishes are the ideal choices for healthy food for the whole family. Health benefits aside, the dishes are rich in variety and appetizing. The blog's owner and writer, Azlin Boor encouraged readers to request any specific dish that they had in mind. She was excited to try the requested dishes and provide her own take in the form of a recipe.
Linsfood has become the go-to spot for many cooking enthusiasts. With their diverse list of recipes, especially their new health-focused ones, the blog is helping people eat well in 2020. As such, it is becoming one of the most popular online recipe blogs.
About Linsfood.com:
LinsFood is an online blog written by Azlin Bloor. She is a chef, culinary instructor and food blogger. Born and raised in Singapore, she is multicultural and multilingual. It is this cultural mix that she hopes to incorporate in all her dishes. She has many years of culinary education, which has given her a rare depth of knowledge and expertise in a wide range of cuisines and cultures. With Linsfood, she hopes to develop an interest for international cuisines in her readers and followers. Her new collection of health-focused recipes from around the world is a great example of this.
For more information: https://www.linsfood.com
Media Contact
Company Name: LinsFood.com
Contact Person: Azlin Bloor (Culinary Instructor and Blogger)
Email: Send Email
City: Bournemouth
State: Dorset
Country: United Kingdom
Website: https://www.linsfood.com/