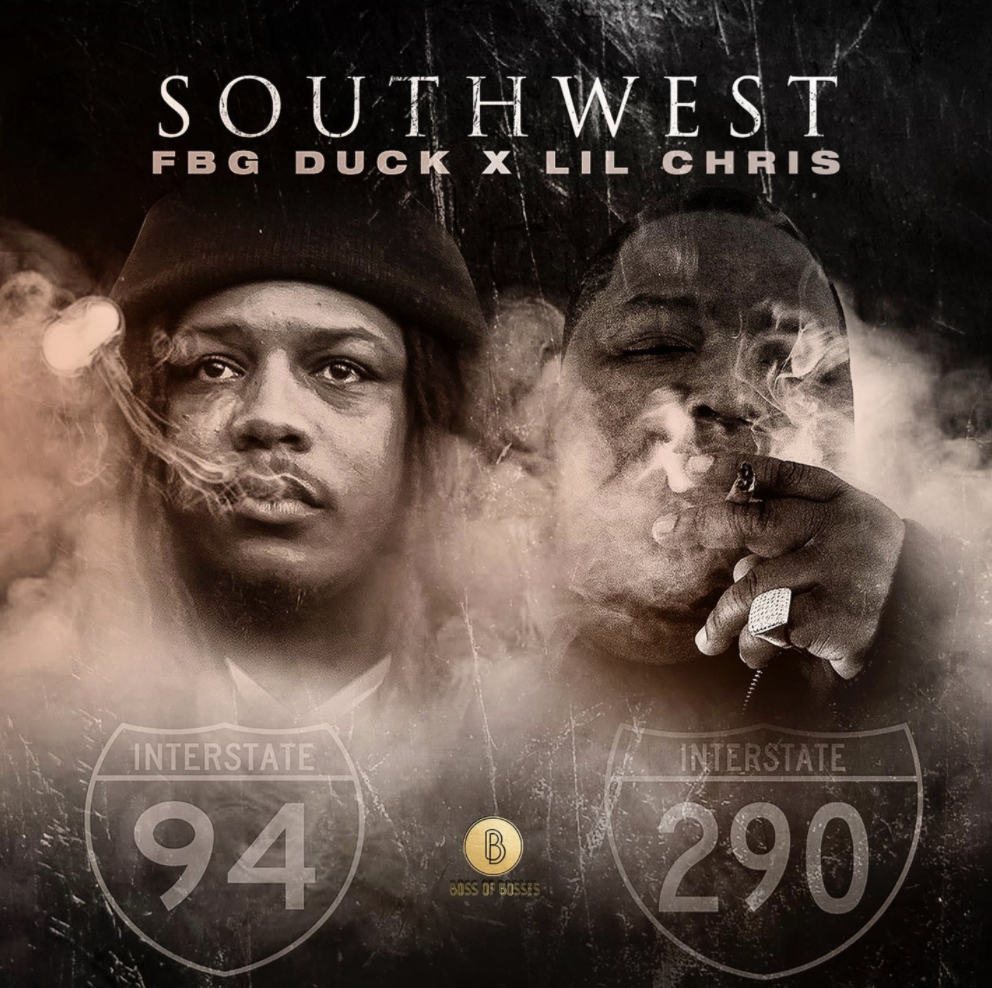 Talented Chicago-based artists, Lil Chris and the late FBG Duck, collaborate to release "Southwest," a rap album extraordinaire with 16 amazing tracks
Southwest is a new project from the duo of Lil Chris and FBG Duck. The trap-influenced album was initially scheduled to drop on September 14, 2020. However, the sad, untimely death of FBG Duck led to the postponement of the release, with 7 of FBG Duck's songs released to the public in tribute to the talented rapper. The songs received positive reviews from music lovers and added to their excitement for the much-anticipated album.
Southwest was eventually released on November 30 and became an instant success, charting at #50 on USA Hip-hop/Rap iTunes Charts. Both artists showed their creativity and ingenuity behind the MIC, delivering solid performances in a trap-influenced sound layered with wordplay and catchy ad-libs. The album chronicles the eventful journey of both artists through their life struggles, with their unimaginable chemistry shinning throughout the album.
Listeners get the best possible introduction to a music project with Lil Chris's Young Thug inspired melodic rapping, giving them a feel of what to expect with the first track, They Changed. Southwest offers a fantastic blend of several instrumentals, unlike most trap albums that use repetitive and monotonous beats. The unpredictability of each track leaves listeners looking out for the next song.
The connection between both artists is not particularly surprising, considering their similar life journeys. Otherwise known as Christopher Ward, Lil Chris met with Carlton D. Weekly, a.k.a FBG Duck, in Chicago's bustling music scene back in 2015. The partnership was fruitful, to say the least, resulting in over 50 songs as a duet as well as more than 200 songs they wrote and produced together.
Raised in a packed household and dropped out of high school to pursue his passion, Lil Chris did not have the easiest childhood experience. However, he was able to rise above the negatives of society, including drugs and violence, to focus on his music and craft his own sound.
FBG Duck's path to success was similar, especially with gangs and violence. However, these challenges did not stop him from reaching new heights, especially with his hit single 'Slide' reaching over 53 Million views on YouTube. However, the music world lost the talented rapper on August 4, 2020, as he failed to see the success of a project he was dedicated to.
Southwest is available on all major streaming platforms for the world to enjoy a unique music listening experience.
Lil Chris x FBG Duck SouthWest https://orcd.co/southwest
Bullets Flying https://youtu.be/o1iGpvDbb30
FOLLOW LIL CHRIS :
MUSIC: https://orcd.co/b5z7oxj
INSTAGRAM: https://www.instagram.com/drbigchris/
FACEBOOK:https://www.facebook.com/lilchrisreal
TWITTER:https://twitter.com/LilChrisktown
WEB: http://lilchrisbob.com/
@Fbg Duck https://www.youtube.com/channel/UCk5REtpt0fhdm2TCLfYF1ig
Media Contact
Company Name: Boss of Bosses Llc
Contact Person: Media Relations
Email: Send Email
City: Los Angeles
State: CA
Country: United States
Website: https://orcd.co/southwest