An evocative, heartfelt story from the Australian Outback, Walkabout to Wisdom by Lachlan Hughson inspires a deep connection with the timeless wisdom of the natural world, and recently became a #1 Amazon Bestseller.
Humanity is at a critical juncture in its evolution. With increasing rates of species extinction and environmental destruction, we are faced with an important decision: to change our ways to live more in harmony with the planet, or to continue along our current path of destruction to the detriment of all living beings. In Walkabout to Wisdom: Awakening to Nature's Teaching in the Australian Outback, author Lachlan Hughson seeks to inspire a human reconnection to Nature in order to safeguard the sanctity of our world. With an unforgettably powerful story and beautiful, vivid imagery, the book was written to be a catalyst for change by highlighting how valuable Nature's teaching and wisdom are to the evolution of our human species.
"Growing up in the Australian Outback, I developed a deep love for the Australian bush specifically and Nature generally. After being "liberated" from my career in New York, I returned to Australia to rebuild my intellectual, physical, emotional and spiritual wellbeing – to rebuild who I wanted to be as a happy, healthy and adventurous human being," says Lachlan Hughson. Now a multi-award-winning author, and equine healer, Hughson is dedicated to helping humanity develop a stronger, deeper connection with Nature and its teaching for the benefit of all the Earth's inhabitants.
Hughson's paradigm-shifting message is that in order to protect the natural world, ourselves and future generations, we must reawaken our sense of adventure within, and love for, Nature. "The natural world will renew us, it will help us heal our traumas, and it will reconnect us to ourintrinsic self – if we let it." says Hughson. This revolutionary message can build bridges between those who take Nature and its wisdom for granted, and those who understand the inherent capacity of the natural world to teach and heal. With layers of ancient and modern wisdom distilled into an accessible, profound and engaging book, Hughson presents a revolutionary way of reconnecting with the rhythms of Nature to achieve nothing less than a full, connected life.
Notably, this book has been recognized on the international stage with multiple literary awards, including Winner in the American Book Fest Awards, Finalist in the International Book Awards, Finalist in the Book Excellence Awards, Finalist in the Independent Author Network Awards and an Honorable Mention in the Readers' Favorite Awards.
Walkabout to Wisdom: Awakening to Nature's Teaching is available for sale, as a Kindle or paperback, on Amazon, Barnes & Noble, and other online bookstores. It can be found on Amazon at: https://www.amazon.com/Walkabout-Wisdom-Awakening-Teaching-Australian-ebook/dp/B07S47FBGM
It is also available as an audiobook on Audible, Barnes & Noble, Google Play and other select platforms. Narrated by the author, the book's energy and tone brings to life the actual walkabout experience, allowing listeners the opportunity to fully connect with this journey. A free sample can be heard by visiting: https://www.amazon.com/Walkabout-Wisdom-Awakening-Teaching-Australian/dp/B0CFSWFFFS/ref=tmm_aud_swatch_0?_encoding=UTF8&qid=1693089122&sr= 8-1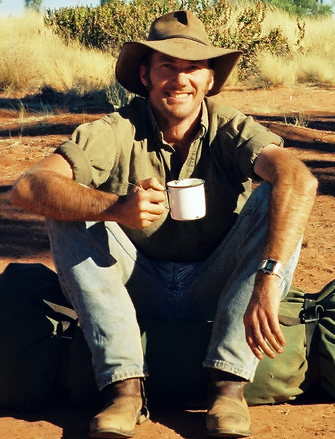 About the Author
Lachlan Hughson was born in the Australian Outback. Growing up in remote mining and cattle towns, Lachlan connected with the Australian bush at a young age. It was the experiences and insights gained from his childhood, along with an unexpected career interruption 20 years later, which inspired the writing of his first book: Walkabout to Wisdom.
With both a cerebral and tactile connection to the natural world, Lachlan's story reflects a unique confluence of knowledge and insight. In addition to being a corporate finance executive focused on the energy and mining industries, he is also a certified equine hoof trimmer, massage therapist, energy worker, and nutritionist who enjoys working with rescued and abused horses to help them heal.
Lachlan's desire to give the natural world a voice, in this time of profound change, was the catalyst for publishing this book following its slow evolution in the 15 years since completing his journey. He remains committed to helping protect the natural world for all its species. To learn more, please visit: lachlanhughson.com and sleipnirswisdom.com.
Connect with Lachlan Hughson on Social Media
Instagram: https://www.instagram.com/lachlan_hughson/
Media Contact
Company Name: Author News Network
Contact Person: Media Relations
Email: Send Email
Country: United States
Website: authornewsnetwork.com