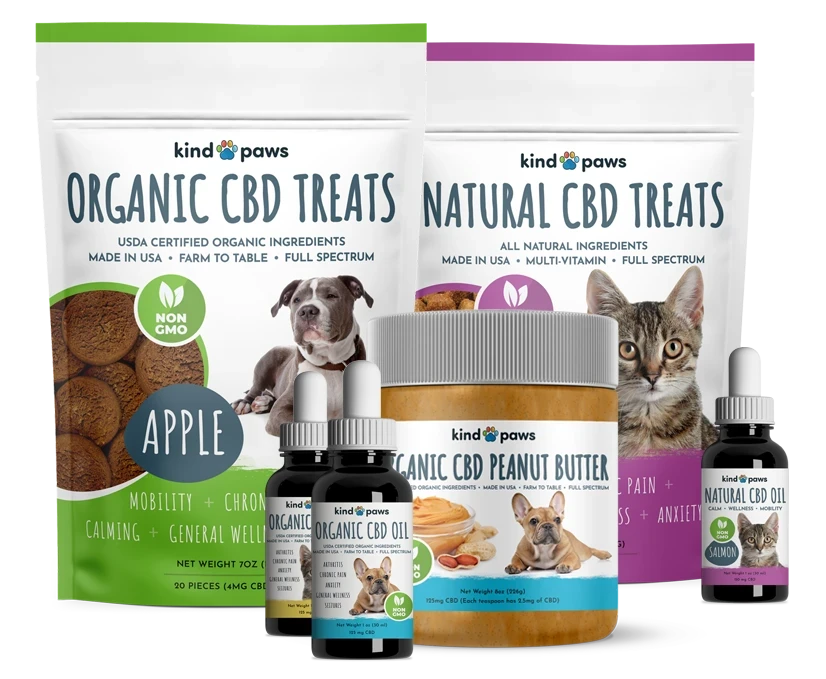 "Your pet's wellness and health are of utmost importance to us. All our CBD pet products are lab tested for purity and quality to ensure the highest level of safety along with the healthiest option for your pet."
– Matthew S. (General Manager)
Kind Paws produces completely natural and organic CBD products designed for pets and has proudly been leading the industry with their outstanding CBD pet products. Their products include CBD oil, treats, and peanut butter for both cats and dogs. CBD products has been shown to help pets with anxiety, depression, joint health, skin and coat appearance, and more.
Kind Paws was started by a group of pet owners and animal advocates who came together to combine their love of animals and product development skills on this project. They invested several years' worth of time and effort into researching, testing, and developing their natural CBD pet products. Part of their process included sourcing everything locally, meaning every single one of their partner farms is located in the USA.
The company is based on three major values. The first is to prioritize at all times the well-being and happiness of their customers and the pets who will be using their products. The second is to seek and utilize the best ingredients for the desired product goal and offer a range of CBD pet treats so the vast majority of the pet owning community can enjoy them. The third is to always give back, always give their all, and always be kind. The company's ultimate mission is for pets to live longer, happier, healthier lives.
CBD oil is derived from hemp plants, however, it does not contain any of the chemical THC, so it will not get your pet high, contrary to common belief. It is completely legal in all 50 states. CBD pet oil has been shown to support neurological health, joint health, reduce anxious behavior, and promote a healthier skin and coat. All of Kind Paws products are 100% natural and organic, meaning all of their products are made with USDA certified human grade ingredients, most of which are sourced from Colorado. They are also lab tested and certified non-GMO products which have not been exposed to any toxic chemicals.
Many pet owners have found that a daily dose of CBD oil, treats, or CBD peanut butter can improve their pet's overall mood and comfort levels. As Kind Paws grows in the future, their mission will remain the same; creating high quality, natural products which help pets live their best lives.
Kind Paws founders and several satisfied customers vouch for the safety and effectiveness of Kind Paws CBD pet products. The brand provides a 30-day money-back guarantee on all its CBD pet products. Kind Paws also provides free shipping on orders over $49.95. All CBD pet products ordered through the Kind Paws website are delivered within 2 to 6 business days.
About Kind Paws:
The company's prime mission is to make human-grade, high-quality, all-natural pet treats available to all pet owners. The Kind Paws team prioritizes the physical and emotional well-being of pets. They focus on developing and launching CBD pet products that boost your pets' health and immunity. Kind Paws pet treats are beneficial to treat issues like pain, anxiety, spasms, or other discomforts. All products launched by the company are lab tested and created using locally sourced, USDA-certified ingredients.
NOTICE: We do not sell or ship internationally nor to ID, NE or SD at this time.
*All products are Federal Farm Bill Compliant and contain less than 0.3% THC*
FDA DISCLOSURE: The statements regarding these products have not been evaluated by the FDA. These products are not intended to diagnose, treat, cure or prevent any disease, consult your health physician before use. The Federal Food, Drug and Cosmetic Act requires placement of this notice.
Media Contact
Company Name: Kind Paws Inc.
Contact Person: Matthew S.
Email: Send Email
Phone: 888-613-5463
Address:6781 W Sunrise Blvd #4
City: Plantation
State: Florida
Country: United States
Website: kindpaws.com