Katie's faking it.
Los Angeles, CA – Jan 13, 2021 – Stream 'WHITE LIE' on Amazon today: http://bit.ly/WhiteLieMovie.
From Canadian based writer-director duo, Yonah Lewis and Calvin Thomas (The Oxbow Cure, Spice It Up), WHITE LIE is a riveting character study that intricately tackles social media and the art of lying.
"WHITE LIE is an unremitting descent into madness and the spiraling, full-body panic of a lie gone terribly wrong," wrote Flip Screened.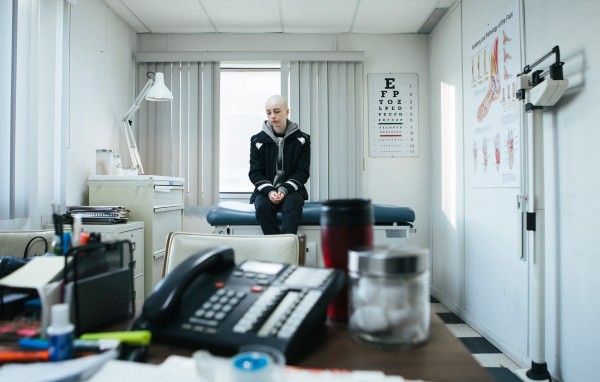 Featuring a masterful performance from Kacey Rohl (Arrow, Hannibal), WHITE LIE follows Katie (Rohl), a young woman who has become a literal poster child on her university campus. Recently diagnosed with cancer, she's the focal point of an online funding campaign for herself, but it's all built on a lie: Katie isn't sick, and never has been. Katie's story begins to unravel, as she tries keep her girlfriend (Amber Anderson) in the dark and stop estranged father (Martin Donovan) from blowing up her charade on social media. In a race-against-time plot, Katie disastrously decides to double down, unable to give up the real-life fantasy world she's constructed for herself.
"WHITE LIE will glue you to the edge of your seat awaiting Katie's fate, it's full of a gripping, almost delightfully uncomfortable tension," wrote CineFlix Daily.
ROCK SALT RELEASING has released WHITE LIE onto various digital streaming platforms today (DirecTV, Amazon, InDemand, iTunes, FlixFling, AT&T, Vimeo on Demand, Vudu, Fandango & Google Play). Watch the official trailer for WHITE LIE here: https://www.youtube.com/watch?v=JJEOwacOyZw.
Alongside Rohl (Red Riding Hood, The Killing), WHITE LIE features acclaimed performances by Amber Anderson (Emma, Black Mirror), Martin Donovan (Tenet, Big Little Lies, Inherent Vice) and Connor Jessup (Locke & Key, American Crime). WHITE LIE also stars Christine Horne (The Captive), Thomas Olajide (Inhuman Condition, King Lear), Sharon Lewis (Brown Girl Begins) and Darrin Baker (Most Dangerous Game, My Spy, The Glass Castle).
For more information about WHITE LIE, please visit https://www.whiteliemovie.com/ and follow on Instagram (@whiteliemovie) and Twitter (@WhiteLie2021).
WHITE LIE (2019, 96 min.) Directed by: Yonah Lewis and Calvin Thomas. Written by: Yonah Lewis and Calvin Thomas. Producers: Karen Harnisch, Yonah Lewis, Calvin Thomas, Katie Bird Nolan, Lindsay Tapscott. Editor: Lev Lewis. Cinematographer: Christopher Lew. Original music: Lev Lewis. Canada, English. Film Forge Productions, Lisa Pictures, Babe Nation Films, Rock Salt Releasing.
About ROCK SALT RELEASING: Daisy Hamilton curates artistic, award winning auteur films for worldwide theatrical release.
About TriCoast Worldwide:
TriCoast Worldwide is a premium international sales agent, representing the best of U.S. and international films at all the major film markets. Sister company to TriCoast Entertainment and TriCoast Studios, the company is located at the studio facility in Historic West Adams, Los Angeles.
Founded by: Strathford Hamilton and Marcy Levitas Hamilton.
Visit: rocksaltreleasing.com
Media Contact
Company Name: TriCoast Entertainment
Contact Person: Jenna Wilen
Email: Send Email
Phone: 3104587707
Address:11124 Washington Blvd.
City: Culver City
State: California
Country: United States
Website: http://www.tricoastworldwide.com