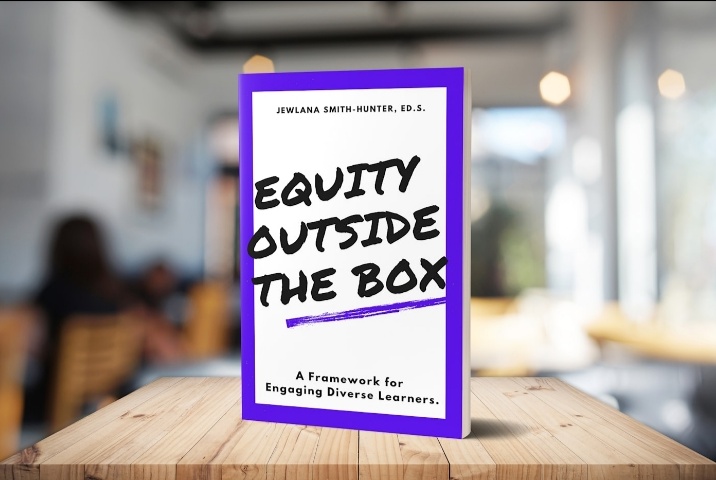 Author and experienced professional in the education sector, Jewlana Smith-Hunter, Ed.S., launches "Equity Outside the Box: A Framework For Engaging Diverse Learners" to foster awareness and positivity through collaboration
Jewlana Smith-Hunter, Ed.S. has launched her new book titled "Equity Outside the Box: A Framework For Engaging Diverse Learners," which will be officially available from March 2021. The book launch is in line with Jewlana's goal of improving the education sector and making quality learning accessible to as many people as possible. The author draws from her experience to share major elements for engaging people, practices, and policies to take equity outside of the box by fostering awareness and positivity through collaboration.
One of the major challenges faced by educators across the globe is providing an equitable learning experience to all categories of students. Over the years, several possible solutions to the problem of equity in education have been proffered. However, many such solutions fail to yield the desired results with a focus on bringing people together, which is where Jewlana Smith-Hunter is looking to make a difference with the launch of her new book.
The book serves as an educational guide to the different stakeholders, containing an innovative approach formulated after years of cutting-edge perception and collaboration research. The book delivers a fresh perspective to elevate equity across schools by providing convenient paradigm shifts to increase equity for diverse learners in K-12 schools. Jewlana teaches the concepts of Connection, Contextualization, and Conversation and how they can be used for unboxing barriers to diversity, representation, inclusion with equitable, intentional, and actionable practices.
"Equity Outside the Box: A Framework For Engaging Diverse Learners" will be available on Amazon for school and local leaders, educators, parents, and even community members who are passionate about improving education.
For more information about the book and other works from Jewlana Smith-Hunter and the Equity Elevator Consulting team, please visit – www.equityelevatorconsulting.com.
Equity Elevator Consulting can also be found across social media, including Facebook and Instagram.
About Equity Elevator Consulting
Equity Elevator Consulting was founded by author and educator, Jewlana Smith-Hunter, Ed.S, to promote social justice in schools. Jewlana has over 16 years of experience in education, serving in several leadership roles at the local school and district levels. She is passionate about positive, collegial, and restorative teaching and learning experiences, a cause she promotes via her podcast, Elevate Education.
Media Contact
Company Name: Equity Elevator Consulting
Contact Person: Media Relations
Email: Send Email
Phone: 470-210-7527
Address:6595 Roswell Road Ste G #3106
City: Atlanta
State: GA 30328
Country: United States
Website: www.equityelevatorconsulting.com